Joe Biden's South Carolina Visit That Was Totally Not a Campaign Trip
The vice president stops in a state that happens to hold a primary.
By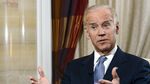 COLUMBIA, S.C.–Vice President Joe Biden has said he'll fish or cut bait on a 2016 White House bid by "the end of the summer." He said this in Iowa, last week–and not long after, he scheduled a trip to South Carolina, which happens to hold the first Southern primary of 2016. Americans were not to read too much into this, as Biden was joining Transportation Secretary Anthony Foxx on the five-day "Grow America" tour to raise awareness of infrastructure needs.