Rauner Seeks Cuts to Close $6 Billion Illinois Deficit
Elizabeth Campbell and Tim Jones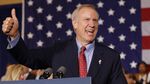 Governor Bruce Rauner proposed spending cuts across state programs from Medicaid to universities to stanch the fiscal bleeding in Illinois, the U.S. state with the lowest credit rating.
With day-care programs and prisons set to run out of cash by early April, Rauner, the first Republican elected to lead Illinois in 16 years, rejected increasing taxes to close a $6.2 billion budget shortfall. His proposal Wednesday to reduce spending instead drew criticism from Democrats who control the legislature and must approve the budget.
Rauner, a former venture capitalist, is among Republican governors struggling to balance budgets after cutting taxes or pledging not to raise them. In states including Wisconsin, Kansas and Alabama, leaders are wrestling with how to eliminate shortfalls in the year ahead.
"We must be willing to take actions we'd rather avoid, and make decisions that may seem unpopular in the short run," Rauner, 59, told a joint legislative session in Springfield, the state capital. "We are in the middle of a crisis that gets worse every day."
Illinois's strains have been building even as the economy rebounds from recession. The state is reckoning with rising pension costs, $6.4 billion of unpaid bills and a current-year budget with a $1.6 billion hole. Both parties contributed to it as Democratic and Republican lawmakers put off pension payments and used one-time measures for years to paper over deficits.
Budget Cuts
"This sets the parameters for a $6 billion discussion on how the state moves forward," said Laurence Msall, president of the Civic Federation, a Chicago-based research group that specializes in government finance. "This is the beginning of a conversation."
Rauner's proposed budget eliminates the shortfall by cutting $2.9 billion in employee-benefit costs, $1.3 billion billion in subsidies to local government and $1.2 billion from reimbursements to health-care providers, according to a details released by his administration.
Rauner, who has blamed public-employee unions for the government's rising costs, would reduce retirement benefits by lowering cost-of-living adjustments and barring workers from using overtime pay to boost benefits, among other steps. Illinois has $111 billion of unfunded liabilities to retirees.
Democrats Object
The proposed cuts from Rauner, a first-time officeholder who campaigned on pledges to lower taxes and streamline government, set him up for a clash with the Democrat-led legislature. House of Representatives Speaker Michael Madigan, a Chicago Democrat who controls much of the legislative agenda, has said cuts alone aren't sufficient.
"You need a blend of cuts and services, and new revenue like a surcharge on millionaires," Madigan told reporters. He called the governor's pitch to use $2.2 billion of anticipated savings from his budget's pension reform "reckless."
Senate President John Cullerton, a Chicago Democrat, said Rauner's budget "will undermine access to health services, child care, affordable college and retirement security for working- and middle-class families."
Cullerton said the budget marks "an important day" for the governor, but suggested a struggle lies ahead, saying it's "just the beginning of the legislative process."
Senate Republican Leader Christine Radogno said Rauner's proposals mark a welcome shift away from Democratic fiscal policies.
"We absolutely have to do things differently in order to survive," Radogno said in an interview.
Struggling States
Illinois is among states that are struggling as others rebound from the recession.
Declining oil prices are exacting a toll in Louisiana, North Dakota and Alaska, where lawmakers are adjusting spending after the price of crude tumbled by about half since June.
Some Republican governors have proposed raising taxes. Nevada's Brian Sandoval is pushing for business levies as he seeks to fund a $1.1 billion increase in education spending. Alabama's Robert Bentley said taxes will have to be lifted over the next four years to solve a long-building shortfall.
Others have declined to raise revenue. Kansas Governor Sam Brownback approved education-spending cuts and transfers from the highway-construction fund last week to help eliminate a projected $344 million current-year deficit, brought about by income-tax cuts.
Illinois has the lowest credit rating and the largest unfunded pension liability among U.S. states. Fitch Ratings's A-rating and negative outlook "reflects its record of unwillingness to address numerous fiscal challenges," the company said.
Standard & Poor's, Moody's Investors Service and Fitch have negative outlooks on Illinois debt, signaling they could lower its credit standing. All three rank it four levels above junk.