Starbucks Just Stealthily Released a New Bacon, Egg, and Cheese Sandwich
The new breakfast offering is the latest attempt to increase sales during core morning hours
by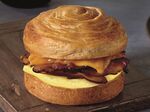 Starbucks quietly rolled out a new breakfast item nationwide on Tuesday called the Double-Smoked Bacon, Cheddar & Egg Sandwich, as part of ongoing efforts to expand its food offerings. It's got melted cheese on thick, hardwood-smoked bacon, and—like Starbucks's ham and Swiss breakfast sandwich—is served on a La Boulange croissant bun.
In contrast to the much-hyped launch of the new "flat white" espresso drink last month, Starbucks did not heavily publicize the new sandwich, says spokeswoman Sanja Gould. Perhaps it's because everyone understands a good bacon, egg, and cheese sandwich, unlike a flat white that requires some explaining for the majority of Americans. It's Starbucks's seventh breakfast sandwich and will cost about $4.50.
The buttery 540-calorie sandwich—which also packs about half a day's recommended value of fat, 39 percent of the recommended daily intake of sodium, and 73 percent of a day's cholesterol—quietly launched alongside a number of other products on Tuesday, including coconut milk and two seasonal lattes (Caramel Flan and Tiramisu), which garnered some more attention from Starbucks followers. Coconut milk was the second-most requested customer idea of all time from MyStarbucksIdea.com, says Gould, which explains why that launch attracted more fanfare.
Starbucks has been expanding its food menu as a way to boost sales during its core morning hours and also during the less busy afternoons and evenings.
Before it's here, it's on the Bloomberg Terminal.
LEARN MORE