Dear Chocoholics: You're Welcome. Love, the U.S. Government
A government lab is helping preserve rare chocolate varieties
By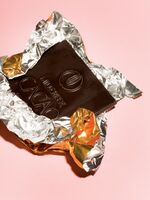 This year chocolate lovers whose Valentine's Day tastes have moved beyond drugstore boxes of Russell Stover have a new option alongside their fair-trade, single-origin bars: heirloom chocolate. Following the well-trodden garden path of tomatoes, beans, and apples, the Fine Chocolate Industry Association, which represents high-end chocolatiers, growers, and retailers, has created an heirloom designation for cacao.
The label has nothing to do with the age or purity of wild cacao—just its flavor. "Heirloom cacao are the diamonds of cacao," boasts the website of the FCIA, a nonprofit whose members include artisanal chocolatiers and relative giants such as Guittard Chocolate and Scharffen Berger, owned by Hershey.
The association says building cachet for heirloom chocolate will raise the price people are willing to pay for it and motivate farmers to plant more, rather than relying on so-called bulk cacao grown for industrial production. FCIA Vice President Dan Pearson, the chief executive officer of Marañón Chocolate, says he gets $11,000 a ton for his rare beans, about four times the $2,700 conventional beans command. (It takes about 500 beans to make a pound of bittersweet chocolate.) He specializes in Nacional, a rare variety he discovered on a sourcing trip to Peru in 2007. "The bean had a cocoon of mucus around it that tasted wonderful," Pearson says.
He enlisted the U.S. Department of Agriculture to help. Its Sustainable Perennial Crops Lab in Beltsville, Md., part of the Agricultural Research Service, devotes 62 percent of its $3.3 million annual budget to researching ways to protect the worldwide cacao crop. (The lab also studies coffee.)
Very little cacao is grown in the U.S.—only 25 acres in Hawaii are planted with it—but the health of the $18 billion U.S. chocolate industry depends on the viability of the global crop. Cacao is susceptible to diseases, many with fanciful names: frosty pod rot, witches' broom disease, black pod rot. For the USDA, the chocolatiers' effort to identify rare beans provides a convenient source of raw genetic material. Researchers hope the FCIA's heirloom varieties will offer growers better disease resistance than industrial crops. "The material we're using today comes from a very narrow genetic background," says Lyndel Meinhardt, research leader at the USDA lab, who's spent 15 years studying cacao. His payoff is going to FCIA meetings, where he gets to try "a little bit of chocolate here and there."
The FCIA has designated seven heirloom varieties from Belize, Bolivia, Costa Rica, Ecuador, and Hawaii. Chocolates made with heirloom beans will be labeled with an HCP Heirloom Cacao badge starting this year. The association says the designation will benefit consumers of fine chocolate, who've been missing out on exotic tastes.
Chocolates boasting different countries of origin can be made from the same type of cacao. Global production is dominated by a handful of varieties, including CCN-51, grown in Ecuador and Peru. The popularity of the high-yield but relatively acidic hybrid derives not from its flavor but from a U.S. Agency for International Development program that introduced it in 2002 to give farmers an alternative to growing coca, the base ingredient for cocaine and crack. "We're concerned primarily with the research side, but flavor's something we don't want to forget about," Meinhardt says.
Dana Brewster, owner of Millcreek Cacao Roasters in Salt Lake City, says her supplier raised prices 25 percent after the Arriba Nacional beans Millcreek uses won the heirloom label. That wasn't a problem: Brewster raised her prices, to as much as $11 a bar. "It has a robust chocolate flavor, but it's nuanced with fruit and caramelic notes," she says. "With bulk chocolate, everything tastes the same."
The bottom line: Chocolate producers are teaming with the USDA to identify "heirloom" strains of cacao and encourage cultivation.
Before it's here, it's on the Bloomberg Terminal.
LEARN MORE