Swedish Billionaire on M&A Prowl as High Prices No Deterrent
Adam Ewing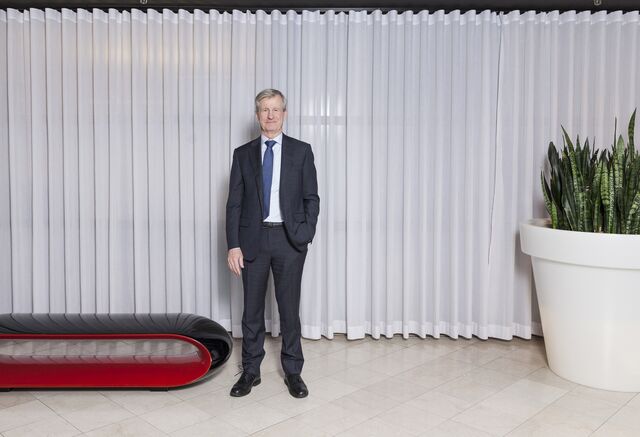 Carl Bennet, a Swedish investor who built a $2 billion equity portfolio from a $30,000 bet made 30 years ago, says record-high stock prices are no reason to stop buying.
"There are opportunities," the 63-year-old said in an interview in one of his Stockholm offices. "We're looking for opportunities in all the companies."
In Sweden alone, the benchmark index of the most traded stocks has soared almost 30 percent in the past four months, touching a record last week. Over the same period the Stoxx Europe 600 index has surged about 20 percent as record-low borrowing costs fuel demand for riskier assets. The extreme prices pose challenges for investors but shouldn't stop them hunting for good deals, Bennet said.
"I notice in some sectors they're getting more and more expensive," he said. "There's a lot of money in the market." Given the risk of paying too much, "it's important to not get carried away, which is something you have to tell yourself before going into a negotiation, because it's easy to get carried away."
Outside Sweden, Bennet says the U.S. remains an attractive market, even after the recent rally in the dollar. Sweden's krona has lost more than 20 percent against the dollar in the past 12 months as the nation's central bank resorts to negative rates to fight deflation.
"Of course the dollar is reaching its fair value, but I feel it's strong, the U.S. economy is good," Bennet said. "They have good education, they invest a lot in research and development, have flexibility in the market."
Growing Fortune
Through his holding company, Lifco AB, Bennet has already made two acquisitions this year, U.K-based Auger Torque, which makes earth drills and other attachments for cranes and excavators, and a Danish company that makes vehicle interiors.
Bennet's fortune has mushroomed from a 250,000-krona ($30,000) investment made in 1983 in a Swedish company called Trelleborg AB. It's now the world's biggest maker of vibration-damping gear. He built up the stake during the 1980s, watching it grow to about 60 million kronor over six years later before cashing in.
Together with Rune Andersson, who was chairman at Trelleborg from 1990 until 2002, Bennet identified a unit of Electrolux AB as his next target. Getinge, a medical equipment maker, was an unprofitable business at the time, but Bennet saw potential in its product, he said. He and Andersson each invested 60 million kronor, borrowed about 200 million kronor from their bank, and took over the unit. Bennet became its chief executive officer and Andersson its chairman.
Targeting Niches
"It was loss making, but it had a good product and a good market position," Bennet said. "It was a niche-oriented company and they'd underpriced the product."
After the takeover, Getinge raised prices twice in the first year without losing any sales volume. Its market capitalization has grown almost 10-fold since then to about 53 billion kronor today. The example shows that companies can't expect to do well unless they price their goods or services properly, according to Bennet.
"After six months, it was in the black," he said.
When Andersson decided to step down as Getinge's chairman in 1997, Bennet bought his stake and named Johan Malmquist CEO. Bennet eventually bought Getinge's dental business, a move that was the start of Lifco, his holding company. Lifco went public in November and its shares have soared 54 percent since.
Lifco declined 1.3 percent to 141.6 kronor in Stockholm trading as of 10:20 a.m. local time, giving the company a market value of 12.9 billion kronor.
"It doesn't matter if it's a small market, try to find your niche and build a strong position," Bennet said. "That's always good, whether good times or bad. Competition is all about being the best."
His other mantra is don't touch what you don't understand. About 15 years ago, Bennet bought a Swedish IT company that had been recommended by a friend. It had 100 employees and no revenue. Bennet shut the business down and paid off the $10 million it had in debts shortly after.
"I didn't know the business and I didn't know the management," he said. "You must have a life lesson once in a while. If you just succeed it's easy to get carried away."
Before it's here, it's on the Bloomberg Terminal.
LEARN MORE