Barbara Bush on Jeb: I've Changed My Mind!
Jeb Bush's mother gives him the thumbs up, and he says his wife, Columba, is on board.
By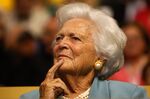 In a carefully staged but endearing Bush family moment, former First Lady Barbara Bush cleared the path for another son to run for president by announcing that she no longer believes too many Bushes have served in the White House. "I've changed my mind," she said.