The Two Questions that Could Make or Break the Case Against Obamacare
A month before the Supreme Court hears the King v. Burwell case, outlets are digging into the argument against the tax credits. Here's what they've found.
By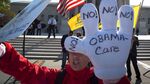 The conservative lawsuit against Obamacare's premium subsidies is important, but also wonky, not the sort of thing that does well on cable news. And yet for a few weeks last fall, the biggest story on Fox News was the unearthing of videos depicting Jonathan Gruber, Obamacare architect, demonstrating the argument conservative legal scholars have been making: Federal exchange states should not have access to health-care tax credits.