This Restaurant Turns Diners Into Lab Rats
Café ArtScience specializes in edible experiments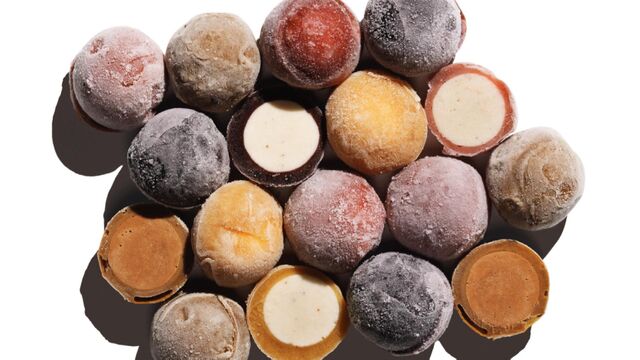 The best drink to order at Café ArtScience isn't listed on the menu. That doesn't stop regulars from sidling up to the bar at the Cambridge (Mass.) restaurant and ordering the Scotch tasting flight. To make it, bartender Todd Maul produces a special carafe, into which he pours a few peaty whiskies. The device then transforms the liquor into diaphanous fog. When you sip the vapor through the vessel's glass straw, it has the same taste and smell as regular Scotch but none of the calories, intoxication effects, or subsequent hangover. The wafting cloud—Scotch as it may be—has been denatured of its alcohol.
The carafe, dubbed Le Whaf, is one of the latest creations from David Edwards, a Harvard engineering professor whose work focuses on using air to improve health. In recent years he's become obsessed with nutrition, creating things like inhalable chocolate and edible water bottles. He teaches only one semester-long class each year: How to Create Things and Have Them Matter, in which 20 students focus on producing "an innovation that in some clear way benefits the world." With his Moses hair style and collection of floral-printed shirts, he rarely passes as an academic.

Café ArtScience is his first restaurant. It's also a showroom for his inventions. As you enter the modernist space, which opened in October, fluorescent-lit shelves show off Les Whafs, on sale for $225. Next to them are pods of $7.99 dietary supplements that, when placed in aerosol canisters, administer puffs of melatonin or caffeine to the lungs. "I'm able to deliver nutrition without any of the side effects that are sometimes associated with drinking a Red Bull," Edwards brags.
At the freezers near the bar, customers use tongs to pluck out $1.99 spheres of ice cream. The size of golf balls, these WikiPearls, as they're called, are wrapped like grapes in a flavored skin that helps frozen liquids keep their shape as they melt. "Edwards comes to a problem and really wants to get to the truth," says Terry McGuire of Polaris Partners, who invested in the pearls. "From a collaborative perspective, that's empowering." In 2014, Edwards and his investors—including other venture capital firms such as Flagship Ventures and Unigestion—licensed the technology to organic yogurt maker Stonyfield Farm. In October the company started distributing WikiPearl frozen yogurt to 38 Whole Foods stores.

Despite its retail element, Café ArtScience also functions as a proper restaurant. Sharing its Kendall Square neighborhood with satellite offices for Google, Microsoft, and Akamai Technologies, it draws in Boston's technology Brahmin, as well as professors from MIT and Harvard, which are a few miles away. The chef, Patrick Campbell, who came on board from Boston's Eastern Standard, makes contemporary French fare such as Nantucket Bay scallops in a salt cod velouté. Only rarely does he use Edwards's inventions in his kitchen, but he's begun playing around; eventually, he says, he wants Le Whaf to lend complementary tastes to certain dishes. Maul, the cocktail maestro, has experimented a bit more. When Edwards hired him in November, he was already well known for using centrifuges, vaporizers, and other lab equipment at Boston's Clio restaurant.

Molecular gastronomy has been a culinary gimmick since at least the mid-1990s, as chefs including Ferran Adria (Madrid), José Andrés (Washington), Grant Achatz (Chicago), and Wylie Dufresne (New York) began cooking with butane burners, dehydrators, hot-infusion siphons, and other tools that were once meant for chemistry labs. As the cuisine has gone in and out of style in the past two decades, scientists themselves have started trying to revolutionize the way we consume food. Soylent, for instance, reduces meals to a $4 nutritional shake to save time and money. Beyond Meat, an upstart making fake chicken strips from plant protein, has recently received an investment from Bill Gates. This year about a half-dozen other companies have tried to fine-tune new forms of ingesting melatonin and insulin.
Few have aimed to capture the sensorial experience of food—what Edwards calls the "head experience"—while cutting out the actual eating and drinking. "Your first adopters are going to be a certain kind of people," he says from a dining room that's stark white, with exposed ceiling pipes, marble tabletops, moss-green velvet banquettes, and honeycomb-shaped light fixtures. "This aesthetic is designed to make them feel welcome." One frequent customer is Tim Rowe, founder of the Cambridge Innovation Center, who says the restaurant works because the science part is approachable. "It's not this highbrow food as chemistry," he adds. Edwards says Café ArtScience brings in $10,000 to $15,000 a day—the average entrée is $22—and he's on track to pay back its five outside investors in two years. Prime dinner reservations have been tough to get since it opened.
People haven't always responded so warmly to Edwards's work. In 2010 he was interviewed on a French TV show about his edible bottles, made from a natural membrane held together by electrostatic forces. The pear-shaped product was still in its nascent phase; you bit the top off to drink from it. When he arrived on the set, Edwards was groggy with jet lag, having just flown into Paris, his second home, from Cambridge. A curtain pulled open to reveal 10 volunteers, who burst into uncomfortable laughter while handling the jiggling bottle. "Doing something in the lab is one thing," he says. "But it's very hard to bring those innovations immediately into a mass-market setting."

After that, he realized the need to test his products on potential customers. So in 2007 he opened Le Laboratoire in Paris, which functions as a gallery and retail space. Café ArtScience is an extension of that—Edwards was originally courted to set up shop in Cambridge by BioMed Realty, a life-science real estate company that was looking to keep its building buzzing at night. Next door to the restaurant, Edwards brokered a lease for a gallery, which has become a U.S. version of Le Labo. He rents it out occasionally for events but mostly uses it to stage free scientific exhibitions. The inaugural show, open through March, features works by MIT Media Lab's Neri Oxman and Tod Machover, who explore how hearing familiar voices influences mental and physical health.
Edwards, 53, doesn't need these businesses to make much money. One of his projects already made him rich. In 1997, working with MIT professor Robert Langer, he developed a whiffle-ball-like particle that could carry insulin to the lungs, potentially allowing diabetics to avoid annoying injections. In 1999 their startup, Advanced Inhalation Research, was bought by the biopharmaceutical company Alkermes for $114 million in stock. After that, "investors and bankers cared a lot more about what I was saying than any audience that had ever listened to me in my academic days," Edwards says. "People were truly betting on [my] ideas."
Ultimately, the inhalable insulin concept didn't pan out. By the time it passed pharmaceutical trials, it was so costly to administer that health insurers wouldn't cover it. This soured Edwards's interest in medicine. "Having to go through regulatory bodies and major corporations before people can actually use this stuff is a big liability," he says.

He began focusing instead on less-regulated substances, such as vitamins and food. Even so, his inventions haven't always passed muster with the U.S. Food and Drug Administration. In 2012 the agency claimed that his Aeroshot caffeine inhaler was misbranded as a dietary supplement. By definition, the FDA charged, a dietary supplement had to be ingested, not inhaled. The product is still sold, though it's now described as an "air-based nutritional supplement."
Eventually, after items like the Aeroshot are critiqued by diners at Café ArtScience, Edwards hopes more supermarkets and food emporiums will start stocking them. This summer a line of coconut milk WikiPearls (free of dairy and other potential allergens) will hit shelves at Dave's Fresh Marketplace, an independent chain of New England grocery stores.
Edwards is also tinkering with noningestible toys. The latest, called the oPhone, is a joint creation with a former student, 24-year-old Rachel Field, that lets users tag messages with scents and send them around the Web. Like Proust with his famous madeleine, Edwards wants to explore the link between aroma and memory—he thinks it could have value in the field of virtual reality. The $149 device, which will start shipping in April, includes various scented chips that when heated send brief whiffs of roses or brown sugar through a handset. The team is also developing an oBook, a children's storybook app connected to an odor-emitting oPhone, to update '80s scratch-and-sniff technology.

Of course, there's an oPhone to test out at Café ArtScience. There, you use it to smell coffee beans from the premium French roaster Coutume before ordering an espresso drink. It's not perfect yet. The first "aroma tweet," sent last June, was supposed to call to mind Champagne and macarons, but it smelled more like a Hershey's bar. Edwards still has hope, he says. "Any innovation is going to get it wrong before getting it right."
Before it's here, it's on the Bloomberg Terminal.
LEARN MORE