The Headset Redeemed
A less ugly, more ergonomic phone-call helper
Kurt Soller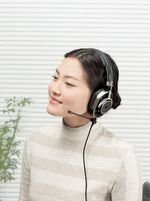 Headsets were once made only for telemarketers. Other people would just crunch the telephone handset into their neck—creating "awkward posture," as the Occupational Safety and Health Administration puts it—or blabber away on speakerphone. But now that 70 percent of U.S. offices are open-plan, according to the International Facility Management Association, a headset is a basic requirement if you want to type and talk with any sense of privacy. Too bad most of them look so dorky.
New York headphone maker Master & Dynamic has solved that issue. Its Boom Mic ($129; masterdynamic.com) is little more than a sleek rod of black or silver aluminum that links to a phone or tablet. Instead of connecting to your ears with a flimsy plastic band, the device plugs into M&D's existing range of headphones ($349-$399; sold separately) to borrow their acoustic power. The tiny unidirectional mic filters out the clamor of colleagues and creates what sounds like a face-to-face conversation.
The idea was born at Manhattan's NeueHouse, one of those co-working spaces that have proliferated as U.S. workers become more transient. After M&D started in May, it began working with NeueHouse's members—mostly creative types and freelancers—to crowdsource efficiency tools. These folks often sit shoulder-to-shoulder at a long table, and the Booms help them achieve a comforting sense of isolation. M&D's onto something: After I tested the headset for a week, my 3 feet of desk space felt at least as spacious as a cubicle. 
(Corrects price of Boom mic headset.)
Before it's here, it's on the Bloomberg Terminal.
LEARN MORE