Last-Ditch Ukraine Talks to Enforce Truce Keep Leaders All Night
Daryna Krasnolutska, Patrick Donahue and Ilya Arkhipov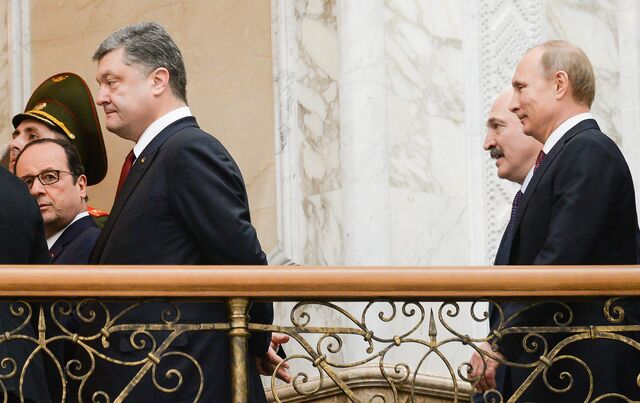 Talks aimed at ending almost a year of conflict in Ukraine dragged into the morning as leaders from Russia, Ukraine, Germany and France spent more than 11 hours locked in negotiations to enforce an earlier truce.
The leaders moved between rooms inside Independence Palace in the Belarusian capital of Minsk, which has heated marble floors and gilded walls, as negotiations wore on. Serving staff dressed fashionably in black served coffee, tea, sweets and snacks through the night to fuel Ukrainian President Petro Poroshenko, Russian President Vladimir Putin, German Chancellor Angela Merkel and French President Francois Hollande.
"The whole world is waiting to see whether the situation will de-escalate and result in a cease-fire, a pullback of heavy weapons, or whether the situation will veer out of control," Ukrainian President Petro Poroshenko said in Minsk before the summit began at 8 p.m. local time Wednesday.
The summit may determine if a tenuous peace takes hold or a wider war breaks out, potentially with the U.S. and some European allies supplying arms to Ukraine in a conflict that has already killed at least 5,486 people and left 12,972 wounded, according to the United Nations. A breakdown of talks would strain trans-Atlantic unity in dealing with Russia, as Europe's consensus on economic sanctions shows signs of fraying.
Draft Text
The draft text focuses on the "practical implementation" of a Minsk cease-fire accord reached in September, Alexander Surikov, the Russian ambassador to Belarus, said in interview at the meeting on Wednesday. The Minsk truce was largely ignored before collapsing in January as fighting surged between pro-Russian rebels in eastern Ukraine and government troops. As talks extended past four hours, the leaders shifted to a private discussion without their aides who'd been present earlier.
While Russia earlier signaled that a deal is likely, Poroshenko said he won't accept Russian demands for his country to become a federation and is ready to impose martial law if the conflict deepens. Separatists in Luhansk and Donetsk presented a document setting conditions, including the end to Ukraine's military operation in the region by Feb. 23, according to newspaper Dzerkalo Tyzhnya.
Fighting flared before the summit. Ukraine's military said 19 government soldiers were killed in fighting around the embattled town of Debaltseve and 78 were wounded during 107 rebel attacks in the past 24 hours. Government forces retook six towns around the port city of Mariupol, Ukrainian military spokesman Andriy Lysenko told reporters in Kiev on Wednesday.
Rebels have gained more than 500 square kilometers (190 square miles) of territory since the September truce, Ukraine says.
Leaders' Entrance
Leaders arrived Wednesday evening in the hall of the Independence Palace, a vast space reminiscent of the Soviet Union. Belarusian President Aleksandr Lukashenko, whose authoritarian rule has earned him the moniker "Europe's last dictator," received Poroshenko first. The carefully choreographed moment was disrupted by a Russian-speaking journalist who shouted at the Ukrainian leader, accusing his military of killing civilians.
Merkel and Hollande entered together, with Merkel receiving a bouquet from the Belarusian leader. Putin entered last, about an hour and a half after the meeting had been scheduled to begin.
Cease-Fire Demand
"Ukraine accepts decentralization for those regions, but the separatists and the Russians would like to go much further," French Foreign Minister Laurent Fabius told France Inter radio on Wednesday. Russia is making "all sorts of demands" about control of the borders, he said.
Poroshenko wants "an immediate, absolute, and entirely unconditional cease-fire and to start a political dialogue" at the summit, according to the presidential website on Wednesday.
Martial law could be declared across Ukraine "if the aggressor's irresponsible actions lead to further escalation of the conflict," Poroshenko told a government meeting in Kiev.
It's "unrealistic" to restore Ukrainian control along the border with Russia in rebel-held areas while fighting continues, Russian Foreign Minister Sergei Lavrov told reporters in Moscow on Wednesday. It's also essential to implement previous Minsk agreements that gave a "special status" to the rebel regions and an amnesty for all involved in the crisis, he said.
Ukraine's resistance to locking in territorial gains made by the separatists will be a key point of contention at the summit, according to the German government's coordinator for ties with Russia. Reaching a cease-fire at the meeting hinges on Russia and Ukraine agreeing on a demarcation line, the official, Gernot Erler, said by phone.
'Difficult Point'
"That will be a really difficult point in the talks, because it'll be hard for the Ukrainian president to explain domestically that considerable additional territory would come under separatist control," he said.
There's a 70 percent chance of an agreement to halt the conflict, a Russian diplomat said, asking not to be identified as the discussions are still under way.
With no news of a deal as dawn broke, journalists waited in the press center for news of a deal -- some sleeping on the floor, others tucking into a buffet of Belarusian delicacies and refreshments that included vodka, local spirits and Champagne.
Draft Text
Lavrov remarked only that talks were "super" when asked during a toilet break. Kremlin spokesman Dmitry Peskov joked to some reporters around 5 a.m. when he said that talks had ended and the leaders departed.
Even if the negotiations produce a truce, it's not clear how long it would last, much less whether it would end the crisis.
"The question is will it stick?" Timothy Ash, a London-based chief economist for emerging markets at Standard Bank Group Ltd., said by e-mail, adding that it's not clear what's changed on the ground.
Ukraine's benchmark notes due July 2017 advanced for a sixth day and traded at 56 cents on the dollar at 10:22 p.m. in Kiev. The hryvnia weakened 1.4 percent to 25.97 to the dollar, while the Russian ruble strengthened 0.5 percent against the greenback to 65.15.
Rebel Demands
The rebel documents presented before the talks listed 15 demands to ensure a cease-fire. These included a special status for some eastern districts, the resumption of pension payments and other benefits and local elections, Dzerkalo Tyzhnya reported.
A "visible failure" of the Ukraine peace process would put sanctions back on the European Union's agenda when the bloc's leaders meet on Thursday, an EU official told reporters in Brussels on Wednesday. A list of wider sanctions is already sealed by the European Council for implementation on Feb. 16 and putting them into effect will depend on the outcome in Minsk, a German government official said, speaking on condition of anonymity.
Moving to sanction entire sectors of the Russian economy such as finance and technology, though, could strain EU unity as it also faces a challenge from the new Greek government. While the U.S. could act alone in extending sanctions, it has far less economic leverage over Russia, and U.S. President Barack Obama has emphasized maintaining trans-Atlantic unity.
After meeting with Merkel in Washington Feb. 9, Obama said the U.S. would consider sending lethal military aid to Ukraine if the negotiations didn't bring a resolution. Merkel and Hollande have opposed arming the out-gunned Ukrainian military, fearing the conflict might escalate out of control.
Before it's here, it's on the Bloomberg Terminal.
LEARN MORE