AmEx Is Losing Its Millionaires
As American Express courts ordinary spenders, rivals poach its wealthiest clients
By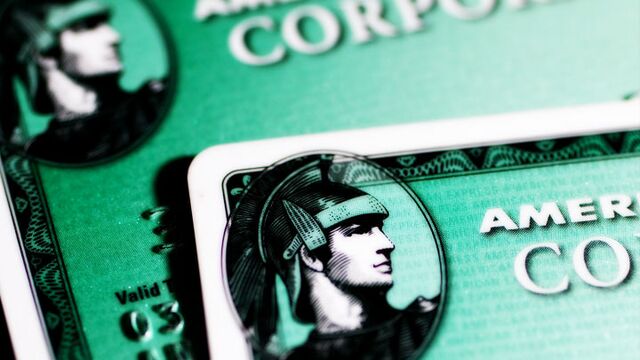 Hedge-fund manager Whitney Tilson used his American Express card for three decades to buy groceries, trips to Europe and just about everything else. A few months ago, he switched.
"I charge a lot of money on my credit card," said Tilson, 48, who manages more than $83 million at Kase Capital Management in New York. He said the Barclaycard Arrival Plus World MasterCard gives him more cash perks while rewarding him for the money he spends on travel. "The difference between getting 1 percent and 2 percent cash back is thousands of dollars and for that amount of money, Barclaycard has a better offer," he said.
American Express Co., long the envy of the industry for its wealthy clientele, is fighting to retain its grip on affluent cardholders like Tilson. Rivals including Barclays Plc and JPMorgan Chase & Co. are courting them with enhanced perks, lower fees and more incentives. And as AmEx seeks to diversify by pursuing tech-savvy millennials and underbanked Americans, the risk of eroding its brand—and its biggest source of revenue—is rising.
"AmEx's cachet with the affluent is not what it used to be," said Jason Arnold, an RBC Capital Markets analyst. "AmEx has always enjoyed king-of-the-hill status, but that's changed. They've seen more competition in the upper-end, and they recognize that they have to go elsewhere to fill that gap."

Spending Slowdown
AmEx remains the most widely held card among high-net-worth households, or those with $1 million or more of investable assets, though its edge is narrowing, according to data from wealth-research firm Phoenix Marketing International.
Fifty-nine percent of wealthy households had a card issued by AmEx last year, unchanged from 2012, while those holding a Chase-issued card rose to 58 percent from 52 percent, the data show. Among households making at least $125,000 annually, Chase surpassed AmEx two years ago, the data show.
The competition is increasing as New York-based AmEx struggles to boost sales amid a slowdown in customer-spending growth. Revenue rose 6.6 percent in the fourth quarter, falling short of its 8 percent goal, while customer card spending increased 6 percent to $268.5 billion, compared with 9 percent in the preceding three-month period. Expenses climbed to $6.3 billion as the company said it planned to cut as many as 4,000 jobs this year to improve efficiency.

Preferred Card
AmEx, whose largest shareholder is Warren Buffett's Berkshire Hathaway Inc., fell 7.7 percent this year through Feb. 10, the third-worst performance in the 30-company Dow Jones Industrial Average. The shares climbed in each of the previous six years.
Since the financial crisis, banks have relied more on fee-generating businesses such as credit cards to counter tepid loan demand and volatile trading. As less-affluent consumers cut spending during the recession and a 2009 law known as the CARD Act limited lenders' ability to raise interest rates and charge late fees, banks revved up their pursuit of customers with top credit scores who pay their bills on time. Credit-card write-offs slid to less than 3 percent last year, the lowest in almost three decades, according to the Federal Reserve.
Most Americans carry at least three cards in their wallets and competition is fierce to supply the one that customers use for the majority of purchases, said Matt Schulz, a senior analyst at Creditcards.com.
Private Jets
Banks are wooing customers with lavish perks like exclusive dinner reservations, wine tastings and tennis lessons. Lenders including Barclays and Citigroup Inc. have struck partnerships with airlines and hotels, offering customers discounts on plane tickets and lodging, as well as cash rewards.
Tilson said he prefers his Barclaycard because it gives him as much as 2.2 percent cash back on travel purchases and no fees on foreign transactions, unlike some AmEx cards. JPMorgan's Palladium card, available only to clients of its private bank, offers complimentary airline tickets for travel companions and free time on a private jet.
"The customers that we service tend to look at Chase for all of their banking needs," said Jennifer Roberts, president of New York-based JPMorgan's affluent and high-net-worth card business. "It was something they were asking us for."
The average annual fee on U.S. card offers increased to $140 last year from $101 in 2012 and $69 in 2007, as banks added more benefits, according to data from marketing-research firm Mintel Group Ltd. The most popular offer was $95, the company said.
Airport Lounges
AmEx has had to trim or alter perks as competitors struck deals with merchants. AmEx cardholders lost free access to American Airlines and U.S. Airways airport lounges last year, and United Airlines also cut off access to AmEx customers in favor of those with cards from its own partner, JPMorgan, following its merger with Continental Airlines. American Express has since built its own airport lounges in cities including New York, San Francisco and Las Vegas.
Still, for some affluent consumers, the loss of such rewards is reason enough to shop around for a new card.
"American Express used to make me feel special," said Darius Gilvydis, a radiologist from outside Chicago who switched last year from AmEx to the Ritz Carlton Visa card, issued by JPMorgan. "What the heck do I get from them now? It's just not worth the money," he said, referring to the $450 annual fee for the AmEx Platinum card, which is $55 more than the Ritz Carlton card.
'Growth Prospects'
While the battle for affluent clients is intense, AmEx products are "unmatched," said Josh Silverman, its president of U.S. consumer services. The number of Platinum card holders increased 8 percent last year from 2013, and the company's customer service and rewards programs remain the industry standard, he said.
"For all the talk from our competitors about the inroads they are making, we have not seen that reflected in our numbers, not in customer retention or the ability to acquire new cardmembers," Silverman said in a phone interview. "We have great growth prospects with the affluent."
As banks chase the rich, competition for partnerships is also intensifying. Costco Wholesale Corp. dropped AmEx as its card issuer in Canada last year and and will end the larger U.S. agreement on March 31, 2016. JetBlue Airways Corp. is also in talks to replace AmEx, other people have said.
Broadening Appeal
Under pressure to retain such partnerships, AmEx in December announced it would extend its arrangement with Delta Air Lines Inc. in a deal with an upfront cost of $109 million. Last month, it did the same with Starwood Hotels & Resorts Worldwide Inc.
American Express started a program last year designed to make it easier and cheaper for small businesses to use its network as its cards aren't as widely accepted as those of rival banks that use networks run by Visa Inc. and MasterCard Inc.
Chief Executive Officer Ken Chenault, 63, has introduced new products aimed at younger and less-affluent customers as AmEx seeks to broaden its appeal. The lender is working with companies including Uber Technologies Inc. and Apple Inc. to expand mobile payments, and courted Americans who lack access to traditional banks with products like its Bluebird prepaid card, offered at Wal-Mart Stores Inc.
Such efforts risk diluting AmEx's brand, said William Ryan, a Portales Partners LLC analyst. "American Express has always charged merchants a higher rate because of their affluent base," Ryan said. "What happens when they look like everybody else?"
'More Battles'
AmEx executives have said repeatedly that becoming more inclusive hasn't hurt their label and remains a priority. Still, Chief Financial Officer Jeff Campbell has said that efforts to broaden the lender's appeal are putting pressure on revenue.
The fees AmEx collects from merchants for processing transactions, known as discount revenue, increased last year at a slower rate than the pace of spending on the company's network, according to data compiled by Bloomberg. That's a sign that AmEx's profitability is under pressure and the company is spending more money on rewards programs to retain customers, according to analysts including Moshe Orenbuch of Credit Suisse Group AG.
AmEx is awaiting a decision on whether its rules barring merchants from steering customers to use other brands is stifling competition. The U.S. and 17 states are suing AmEx in an antitrust case in federal court in New York. Chenault has said the rules are needed to protect the company's brand.
"The days when AmEx could solely rely on higher-end customers are long gone," said Ron Shevlin, an analyst at payments-research firm Aite Group LLC. "AmEx is facing more battles on more fronts."
(Updates Costco's decision to end its agreement with AmEx.)
(Updates Costco's decision to end its agreement with AmEx in 20th paragraph.)
Before it's here, it's on the Bloomberg Terminal.
LEARN MORE