SpaceX Launches Satellite as Rocket Recovery Is Scrapped
Dana Hull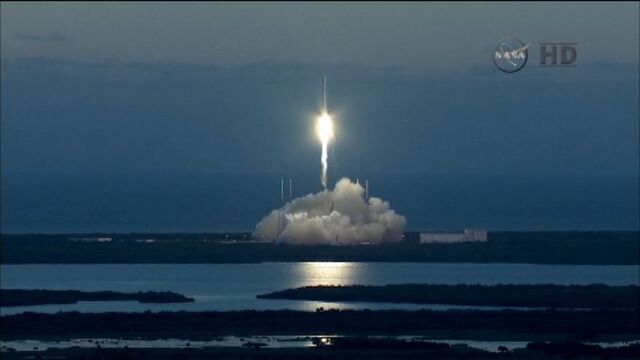 An unmanned Falcon 9 rocket from billionaire Elon Musk's SpaceX blasted off carrying a U.S. research satellite while rough seas forced the abandonment of a bid to recover the booster aboard a ship.
The first stage's "survival is highly unlikely" under a backup plan for a soft landing in water, SpaceX said before the launch. Liftoff came at 6:03 p.m. Wednesday at Cape Canaveral, Florida, under clear skies far from the stormy conditions battering the automated recovery vessel in the Atlantic Ocean.
"Can't delay any longer," Musk said in a Twitter message during the countdown after dropping the shipboard-landing plan. "Must proceed with primary mission to launch the Deep Space Climate Observatory spacecraft."
Scrapping the retrieval effort marked a second setback for one of Musk's boldest goals at Space Exploration Technologies Corp.: cutting the cost of spaceflight by creating usable rockets. His system involves guiding the booster to a vertical touchdown on a vessel hundreds of miles out at sea, a feat that SpaceX tried but failed to pull off in January.
Wednesday's landing attempt promised to be even trickier because only three of the vessel's four engines were working, SpaceX said. Rocked by swells, the ship would have been even harder to keep stationary to receive the booster.
"The drone ship was designed to operate in all but the most extreme weather," SpaceX said in a statement. "We are experiencing just such weather in the Atlantic with waves reaching up to three stories in height crashing over the decks."
Near Target
While the retrieval didn't go as planned, the rocket landed in the ocean within 10 meters of its target "and nicely vertical," Musk said in a message posted on Twitter. "High probability of good droneship landing in non-stormy weather."
Getting the Deep Space Climate Observatory satellite started on its journey was a victory for SpaceX after aborted launch attempts each of the past three days. Known as DSCOVR, the refrigerator-sized probe will reach its destination in orbit almost 1 million miles (1.6 million kilometers) away.
DSCOVR is a partnership of the National Oceanic and Atmospheric Administration, the National Aeronautics and Space Administration and the U.S. Air Force. Designed to monitor solar weather for storms that jeopardize other satellites in space as well as GPS, power grids and aviation navigation here on Earth, DSCOVR will eventually replace a 17-year-old satellite known as the Advanced Composition Explorer.
Solar Power
The satellite's twin solar arrays deployed properly Wednesday night to provide power to the spacecraft, which was communicating with its mission team, NASA reported on its website.
"It's in good health and on its way to beginning its mission," SpaceX said.
Former Vice President Al Gore had the original vision in 1998 for a satellite that could provide a clearer view of the Earth.
"It was inspiring to witness the launch of the Deep Space Climate Observatory," Gore said in a statement Wednesday after the launch. "DSCOVR has embarked on its mission to further our understanding of Earth and enable citizens and scientists alike to better understand the reality of the climate crisis and envision its solutions. DSCOVR will also give us a wonderful opportunity to see the beauty and fragility of our planet and, in doing so, remind us of the duty to protect our only home."
Busy Week
SpaceX, based in Hawthorne, California, had a busy week. Sunday's scheduled launch was delayed due to issues with Air Force tracking radar, Monday's heavy rains made for unfavorable conditions and Tuesday's scheduled liftoff was scrubbed because of high winds.
Besides the launch, SpaceX celebrated the splashdown of its Dragon cargo capsule, which returned home from the International Space Station. The capsule landed in the Pacific Ocean, about 259 miles southwest of Long Beach, on Tuesday.
Building rockets that can be recycled are part of Musk's plans to eventually send humans to and from Mars.
"A fully and rapidly reusable rocket -- which has never been done before -- is the pivotal breakthrough needed to substantially reduce the cost of space access," SpaceX said on its website. "While most rockets are designed to burn up on re-entry, SpaceX is building rockets that not only withstand re-entry, but also land safely on Earth to be refueled and fly again."
Landing Vessel
The modified landing barge, marked with a huge X, is floating hundreds of miles offshore. The name of the SpaceX vessel is Just Read the Instructions, Musk's literary nod to the late Scottish science-fiction author Iain M. Banks.
In January, SpaceX first tested the ability of its Falcon 9 rocket to touch down on landing legs. The 14-story-tall rocket ran out of hydraulic fluid shortly before it hit the ship hard and broke into pieces.
That flight was part of SpaceX's $1.6 billion contract to resupply the International Space Station. It also has a second contract, worth as much as $2.6 billion, to transport crews. Wednesday's launch, paid for by the Air Force, is separate from the NASA contracts and has cost the military branch $103 million to date, with more to come until the mission is complete. The value of the contract with SpaceX is $89.2 million, an Air Force representative said.
SpaceX competitors, including French space agency CNES and Blue Origin, which is led by Amazon.com Inc. billionaire Jeff Bezos, are also working on reusable rockets.
Before it's here, it's on the Bloomberg Terminal.
LEARN MORE