Liberalism After Jon Stewart
The Daily Show and the counter-establishment.
By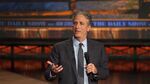 Jon Stewart's guest on the Nov. 7, 2005 episode of The Daily Show was Illinois Senator Barack Obama. The interview was friendly, to put it mildly—the working assumption of both men was that the Republicans had wrecked the country and (quoting Stewart) "if you just stand back and get out of the way, people are going to have to vote for the other party." Stewart got some jokey answers from his guest, and closed with a question about all the "hype" he was getting just a year after coming to the Senate.