Glencore to Divest Platinum Miner Stake to Shareholders
Jesse Riseborough and Andre Janse van Vuuren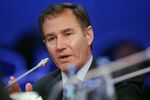 Glencore Plc, the mining and commodities trading company headed by billionaire Ivan Glasenberg, said it's planning to distribute its 23.9 percent holding in platinum producer Lonmin Plc to its own shareholders.
"As we do not trade platinum and have no special insight into the market, we believe that it is better to leave to our shareholders the decision as to how to manage the Lonmin shares," Glasenberg said in a statement Wednesday.
Shares of Lonmin, the world's third-biggest platinum producer, slumped 5.6 percent to 162.8 pence by 1 p.m. in London. Glencore's stake is worth about $347 million. Glencore was little changed at 271.4 pence.
The Swiss commodities supplier plans to complete the divestment of the stake, acquired in the 2013 takeover of Xstrata Plc, in the first half of this year. Since completing the $29 billion all-share deal, Glencore has repeatedly said the Lonmin holding was a "non-core asset."
It's estimated to be worth 3 cents per Glencore share and the decision to distribute won't affect the company's "approach towards its annual cash distribution consideration," it said.
Buying Opportunity
Lonmin produces all its platinum in South Africa. Its Marikana mine was the site of the deadliest police action in the country since the end of apartheid, with 34 protesters were killed in a single day during strikes in 2012.
"There will be a bit of an overhang, but it shouldn't be the end of the road for Lonmin," Michael Kavanagh, an analyst at Noah Capital Markets (Pty) Ltd. in Cape Town, said by phone. "If you're a believer in the platinum cycle and what Lonmin is doing then that's a nice buying opportunity."
Glencore's decision to divest its holding is a "constructive way forward," Lonmin said in a statement.
Glencore's senior management including Glasenberg, the chief executive officer who owns an 8.4 percent stake in the company, won't immediately dispose of the Lonmin shares they'll receive in the distribution, Glencore said.
Separately, Baar, Switzerland-based Glencore said it's cutting its 2015 spending in response to plunging metal prices. Expenditure this year will decline to a range of $6.5 billion to $6.8 billion from an earlier target of $7.9 billion.
Before it's here, it's on the Bloomberg Terminal.
LEARN MORE