U.S. Said to Close Embassy in Yemen Over Security Concerns
Terry Atlas and Nicole Gaouette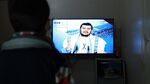 The U.S. is shutting down its embassy in Yemen and withdrawing American personnel amid increasing unrest after Shiite Houthi rebels took control in the capital Sana'a, according to two officials familiar with the move.
State Department spokeswoman Jen Psaki wouldn't comment on whether the embassy is in the process of closing or whether U.S. Ambassador Matthew Tueller will be leaving the post.
"Our focus remains on what's in the best interests of our staff," Psaki said Tuesday, citing the "volatile political and security situation" in the Yemeni capital.
Psaki said the U.S. remains "engaged with all sides" politically in Yemen with "a range of contacts on the ground."
The Houthi takeover raises questions about the future of U.S.-Yemen counterterrorism cooperation against al-Qaeda in the Arabian Peninsula, which U.S. officials say is the foreign terrorist group that presents the greatest threat to the U.S. homeland.
AQAP has claimed responsibility for the massacre at the Paris headquarters of the satirical newspaper Charlie Hebdo and made several efforts to blow up U.S. aircraft. One of its members, Ibrahim al-Asiri, has experimented with implanting bombs in the human body, and is considered by intelligence officials to be terrorism's most sophisticated bomb designer.
In his September address to the nation outlining plans to fight Islamic State, Obama cited Yemen as a place where the U.S has successfully pursued a "strategy of taking out terrorists who threaten us, while supporting partners on the front lines." The U.S. considered President Abdurabuh Mansur Hadi, who resigned last month amid the Houthis' takeover, a key ally against AQAP.
'Innovative Explosives'
Last month, Marine Lieutenant General Vincent Stewart, the head of the U.S. Defense Intelligence Agency, said the group "remains committed to attacking the West, probably by targeting commercial aviation with innovative explosives."
Any U.S. effort to cooperate with the Shiite Houthis against Sunni AQAP would complicate relations with Saudi Arabia, which considers the rebels allies of Shiite Iran. Saudi Arabia's cabinet Monday accused the Houthis of carrying out a coup after they dissolved parliament in defiance of a Gulf Arab initiative to stabilize the country.
The American embassy ceased public operations last month and began reducing staffing as turmoil increased in the capital. The unnamed officials confirmed the closing on condition of anonymity because it hasn't been announced.
It's the third U.S. embassy in the Middle East and North Africa to be closed because of security concerns. The embassy in Damascus closed in 2012, and the facility in Tripoli, Libya closed last year. Reuters reported the closing of the facility in Yemen earlier.
The Houthis disbanded Yemen's parliament on Feb. 6 and said a national council of 551 members would be appointed to replace it.