The Media Guide to Covering Donald Trump
By and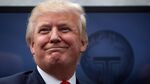 Donald Trump is back in the political spotlight, delivering major speeches at Republican events, and dropping rhetorical bombs on talk radio on the hot-button issues of the day, like last week's debate on vaccination. But with Trump's re-emergence comes the eternal question: does the Donald deserve as much attention as he gets? 
That subject has proven especially vexing for reporters and editors who must regularly decide whether to write about Trump's political aspirations given his reluctance to formally declare himself a presidential candidate despite what seems like a perennial flirtation with the prospect. Here, then, are four ways that members of the media have tried to settle whether Trump should be taken seriously as a would-be candidate. 
Never ever cover him
A year ago, BuzzFeed's McCay Coppins incited Trump's rage by writing that the billionaire's political career "finally appears to be on the brink of collapse," because "nobody believes him anymore." In the wake of that story, CNN's Brian Stelter said that he, too, thought the network was sometimes guilty of taking the real estate mogul too seriously.
This year, the Atlantic's Connor Friedersdorf took a stand against all that attention Trump's January speech at the Iowa Freedom Summit, becoming the latest reporter to criticize the coverage:
There is no reason to think that this man will run for president; if he did, this speech would not much affect the campaign; the thoughts expressed are neither insightful nor interesting; there's no evidence that politicians criticized by Trump suffer from it or that politicians or policies that he supports benefit. So what gives? If dozens of writers and editors decided that reporting focused on Trump was the best use of their time, that would be a damning indictment of the political press. But one suspects that most of these writers and editors don't actually believe that their time was well spent, which suggests an even bigger problem.
It doesn't matter if you don't cover him
One simple reason that media organizations cover Trump is that stories about him generate Internet traffic. In part, that's because Trump is the star of a successful reality television show. But the casino magnate has also built up an impressive 1.65 million Facebook friends and another 2.7 million Twitter followers, about twice the combined total for the rest of the Republican field. That's enough potential eyeballs to make the case that is is never OK not to cover him. As when he offered to donate $5 million to charity if President Obama would release college and passport records, and college applications, Trump demonstrated his ability to make news all on his own. 
"The real issue is that Trump demonstrated he still leads a very powerful brand as he accumulated more than 35,000 interactions on his Facebook profile.  That in and of itself was an accomplishment for Trump and his brand," Kenneth Wisnefski, CEO at WebiMax, told TechZone360. 
Cover him because you are addicted to Internet traffic
The idea that nobody takes Trump seriously is certainly wishful thinking by his critics. Plenty of news outlets (including Friedersdorf's Atlantic) covered Trump's speech at the Iowa Freedom Summit, where he boasted, "I know what needs to be done to make America great again. We can make this country great again. The potential is enormous and I am seriously thinking of running for president."
The more stories that are written about his irrelevancy, in fact, the more Trump seems drawn into the political arena. Politico's Dylan Byers made a similar point back in 2013: 
Trump's non-candidacy tests the traditional view at news organizations that political journalists are the gatekeepers, the arbiters of which candidates deserve serious attention by virtue of their fundraising, their endorsements and the strength of their ideas. Trump is making a mockery of all that. The attention he gets shows the media just can't help themselves when high Web traffic and ratings get into the mix. And it seems both the celebrity-businessman and the journalists are in on the joke.
Cover him and stop worrying about it; everyone's in on the joke
In an article titled, Media Says Media Shouldn't Cover Donald Trump, FishbowlNY honed in on the hypocrisy of journalists pleading with other journalists not to write about Trump while, effectively, writing about Trump. "Everyone knows that Donald Trump is not the brightest bulb in the pack and his political ramblings are completely meaningless. Everyone also knows that it's fun to cover him anyway," Chris O'Shea explained.
In other words, as long as Trump is out there promoting himself, whether in the context of a presidential campaign or not, we'll be seeing the snarky stories from those who don't take him seriously. Why? Because everything he says is, in some way, designed to make news. 
"The media covers Trump because people want to read about him," O'Shea added. "He's the living embodiment of a car crash—you know it's going to be bad, but you look anyway." 
Cover him because he may actually influence this election
Writing in the Washington Post, Aaron Blake argued that Trump had essentially turned himself into a walking "punchline," and noted the Bloomberg Politics/Des Moines Register poll that showed that 68 percent of likely Republican caucus-goers had a negative opinion of the man. Still, Blake suggested that Trump may hold some sway with conservatives. As Blake put it, "this is a guy whose endorsement Mitt Romney promoted in the 2012 primaries—a guy who was supposed to be the tea party's guy."
Whether because of his celebrity, his political beliefs, or both, Trump does know how to fill room and entertain a crowd. As his reception at 2014's CPAC gathering, and at January's Tea Party Convention showed, the Donald does still command respect from a certain American demographic even if his own political endorsements have proven short-lived. 
CORRECTION: An earlier version of this story incorrectly identified the outlet where the article "Media Says Media Shouldn't Cover Donald Trump" appeared. It was FishbowlNY.