Rand Paul Raises Funds Off 'Audit the Fed' Campaign as Fed Condemns It
The senator is relishing the backlash.
By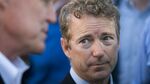 What a difference an incipient presidential campaign makes. Before Kentucky Senator Rand Paul spoke to an Iowa crowd in support of his "audit the Fed" legislation, officials of the central bank were calling him dangerous, going on the record against the bill. Since the speech, in which Paul said the Fed was over-leveraged and the dollar was backed by "used car loans, bad home loans, distressed assets and derivatives," the howls from the Fed have gotten louder.
In a speech Tuesday, Federal Reserve Bank of Richmond President Jeffrey Lacker characterized "audit the Fed" as a scheme for "high-frequency harassment" of monetary policy-makers. Separately, in an interview with Bloomberg's Peter Cook, Federal Reserve Governor Jerome Powell more or less accused Paul of dissembling.
"The idea that there's some secret thing happening is just false," said Powell. "It's in violent conflict with the facts." The "audit," he said, was "about getting Congress into the meeting-by-meeting making of monetary policy. Over time we have learned that when that happens, inevitably, elected politicians want more accommodative policy. It results in higher inflation and bad economic outcomes."
Paul has not been moved. In fact, the criticism from the Fed has been folded right into a new campaign, by his PAC, to raise money (in fiat currency, for now) and build a list of names.

"The Federal Reserve's cronies launched a nasty smear campaign against me because they're terrified of the momentum Audit the Fed is gaining in Congress," says Paul in the fundraising appeal. "RANDPAC staff is busy putting the finishing touches on an all-out Audit the Fed grassroots mobilization blitz. Using hard-hitting emails and targeted Facebook and Internet ads, RANDPAC will contact up to 7 million Americans to take action and join this fight."
In an interview in Iowa, Paul had not exactly rebutted the critics. He saw them as making controversy out of something most Americans naturally understood and supported.
"The Constitution gives the power to Congress to coin the money," Paul said. "Really, we're supposed to be in charge. As far as being independent, we'd like to see the Fed independent of the executive branch. If there's been any kind of cronyism, and any kind of revolving door, it's been between the Fed, the Treasury, and back to Wall Street again. I would think the American people would want to know if in any of the $4.5 trillion in things purchased by the Fed, there's any conflict of interest."
Today, after the fresh condemnation from Fed officials, Paul's team asked why the central bank seemed to be so terrified of transparency.
"An audit is a lookback, not a minute-by-minute overseeing," said Paul spokesman Doug Stafford on Tuesday. "The Fed knows this and they are trying to change the question."