Rand Paul Raises Funds Off 'Audit the Fed' Campaign as Fed Condemns It
The senator is relishing the backlash.
By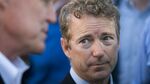 What a difference an incipient presidential campaign makes. Before Kentucky Senator Rand Paul spoke to an Iowa crowd in support of his "audit the Fed" legislation, officials of the central bank were calling him dangerous, going on the record against the bill. Since the speech, in which Paul said the Fed was over-leveraged and the dollar was backed by "used car loans, bad home loans, distressed assets and derivatives," the howls from the Fed have gotten louder.