Donald Trump Returns to Iowa 'Strongly Inclined' to Run for President
The billionaire is, once again, flirting with a White House run.
By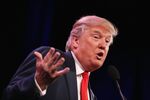 For real estate developer and reality television host Donald Trump, flirting with a presidential run has become a familiar preoccupation, and the 2016 election is no exception. 
Trump has been booked as the keynote speaker at the Lincoln-Reagan Day Dinner on May 15 in Pottawattamie County, Iowa, the Des Moines Register reported Sunday, in another sign that he is seriously considering hopping into what could prove a crowded Republican presidential field. 
While Trump floated the prospect of running in 2000 as an independent candidate, and again in 2012 as a Republican, the billionaire best known for his "you're fired" tagline on the NBC reality show The Apprentice, never did actually mount a campaign. 
"I was leading in every poll. ... I regret that I didn't stay in," Trump told the Register of his chances in 2012. "I would've won the race against Obama. He would've been easy. Hillary is tougher to beat than Obama, but Hillary is very beatable."
According to Trump, many things are easy, such as fixing everything he sees as being wrong with the country. 
"Our country is in such trouble and it would be so easy to fix," Trump said at his speech at the Iowa Freedom Summit. "We have such great potential. If I run for president, and if I win, I would totally succeed in creating jobs, defeating ISIS and stopping the Islamic terrorists—and you have to do that—reducing the budget deficits, so important, have to do it, securing our Southern border, and I mean seriously securing, stopping nuclear weapons in Iran and elsewhere, saving social security, medicare and medicaid without cutting it down to the bone, because it's not fair to people that have been paying their whole lives and other people, and it's not fair to future people coming up, and we can do it, repealing Obamacare and replacing it with something far better for the people and far less expensive, both for the people and for the country, and believe me there are plans that are so much better for everybody and everybody can be covered. I'm not saying leave 50 percent of the people out, everybody can be covered. This plan is just a basic disaster." 
A recent Bloomberg Politics/Des Moines Register poll of likely Republican caucus-goers did not give Trump much reason to feel optimistic about his chances of winning in the state, however. Just one percent of voters said he was their first choice for president.