Dalio's Bridgewater Fund Said to Rise 8.3% in January
Kelly Bit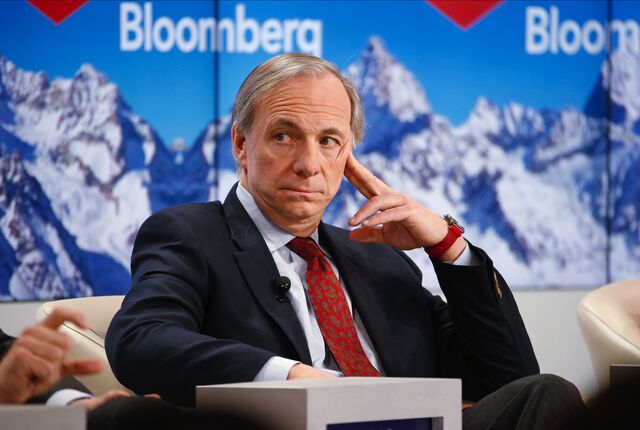 For hedge fund traders, January was either the most exciting month in years or a nightmare that couldn't end soon enough.
The period, marked by surprise central bank actions that triggered spurts of volatility and violent currency moves, yielded big gains and losses for hedge funds.
Ray Dalio's Bridgewater Associates posted an 8.3 percent gain last month and Louis Bacon's Moore Capital Management was up 4.5 percent for most of the month. On the losing side, Michael Platt's BlueCrest Capital Management had to shut a portfolio and lost 6 percent in its main fund. Fortress Investment Group LLC had a loss of 6.9 percent in its macro strategy and Everest Capital Global's Marko Dimitrijevic had an $830 million pool wiped out.
Bridgewater, the world's largest hedge fund manager, led most of its peers that invest across global markets based on economic themes. Macro funds rose 2.6 percent on average in January, the best monthly return since December 2010, according to Chicago-based Hedge Fund Research Inc., as government debt rallied and oil slumped. The average hedge fund gained 0.5 percent last month and equity-focused strategies lost 0.6 percent.
"January was a volatile month across asset classes, proving challenging for many hedge fund investors although most global macro investors were rewarded," Anthony Lawler, a money manager for GAM Holding, which invests in hedge funds, wrote in a report.
Turning Tide
Passport Capital's John Burbank said the tide has turned from a macro environment that peers including Paul Tudor Jones and Fortress's Michael Novogratz last year characterized as boring and calm. Burbank said the markets are rife with opportunities not seen in years due to divergence in central bank actions, with the U.S. set to raise interest rates and other countries pursuing increased stimulus.
Passport, which oversees $4.1 billion, jumped 17 percent in its special situations fund last month, according to a person with knowledge of the matter, and its main fund rose 9.2 percent.
Jones' $13.5 billion Tudor Investment Corp. climbed 2.7 percent last month in its main fund, said a person briefed on the returns. Jones had said in May that hedge funds needed "a macro doctor to prescribe central bank Viagra" as global monetary policy kept interest rates depressed for long periods of time. The fund rose 3.2 percent last year after reversing a 0.5 percent loss for the first 10 months of 2014.
Bacon Gains
Bacon's $14.8 billion Moore Capital gained 4.5 percent through Jan. 22 in its Moore Global Investments fund, according to a person familiar with the matter. Its Moore Macro Managers fund climbed 1.5 percent in the period, the person said.
Bridgewater, which manages $160 billion in Westport, Connecticut, posted its monthly gain in its Pure Alpha II fund, said the person, who asked not to be identified because the information is private. The fund rose 3.6 percent last year and has posted an annualized return of 13 percent since inception in 1991.
MKP Capital Management, the $8.7 billion New York-based hedge fund firm, gained 3.6 percent in its macro MKP Opportunity Partners fund run by Patrick McMahon and a team, according to a person familiar with the matter. A leveraged version of the fund climbed 5.5 percent.
Todd Edgar's $800 million Atreaus Capital rose 7.5 percent last month as the currency and commodities hedge fund speculated that the euro would tumble, said a person familiar with the fund.
Biggest Surprise
The biggest surprise in January was the Swiss national bank's decision to end a three-year cap against the euro. The move blindsided some investors, including Platt's $15 billion BlueCrest.
The environment has also been tough for stock-focused managers, including Third Point. Founder Dan Loeb, quoting a friend of his, described it as a "'haunted house market' where a new scary event lurks around each corner," according to the manager's fourth quarter letter. The firm, which deploys a value-focused strategy that invests in companies undergoing events such as spinoffs or bankruptcies and pushes for corporate change, declined 2.3 percent last month in its Third Point Offshore Fund.
Greenlight Capital, the $11.8 billion investment firm led by billionaire David Einhorn, fell 2.5 percent in its main hedge fund. The Standard & Poor's 500 Index fell 3.1 percent last month.
Spokesmen for the firms declined to comment on the returns.
Before it's here, it's on the Bloomberg Terminal.
LEARN MORE