Qualcomm Fined $975 Million in China, Sets Licensing Rates
Ian King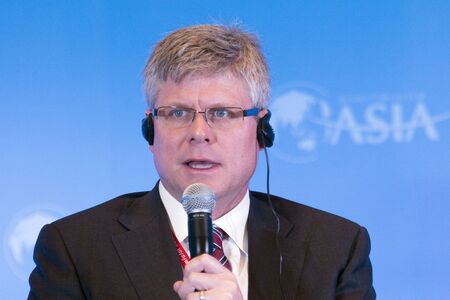 Qualcomm Inc. was fined $975 million by Chinese antitrust regulators, who set new terms for smartphone makers to license the chipmaker's technology, ending an inquiry that threatened the U.S. company's growth in the biggest mobile market.
China's National Development and Reform Commission issued a decision that Qualcomm violated its anti-monopoly law, the San Diego-based company said Monday in a statement. Qualcomm won't challenge the ruling, which includes a fine of 6.088 billion yuan ($975 million) and imposes conditions on royalties charged on phones sold in China.
The accord puts to rest an investigation that lasted more than a year and hurt Qualcomm's ability to collect licensing revenue in China, where some handset makers have delayed royalty payments or paid less than they owe. Qualcomm, whose chips run most of the world's phones that can access the Internet, gets the majority of its profit from patent-licensing fees related to its ownership of technology fundamental to cellular-phone systems.
"It's a net positive when it's all shook out," said Mike Walkley, an analyst at Canaccord Genuity, who recommends buying Qualcomm stock. "It makes more sense if China wants to protect the Chinese consumer."
Qualcomm shares rose 3.1 percent in extended trading following the announcement. They gained 1.2 percent to $67.11 at the close in New York. The stock was little changed last year as the company grappled with the impact of the investigation on its business.
Royalty Rates
Qualcomm's license fees were too high and the company used its dominant position to force customers into accepting its conditions, the regulator said on its Website.
"The behavior of Qualcomm restricted competition in the market, curbed technology innovation and harmed the interests of consumers," the NDRC said. "Qualcomm Corp. can use its protected patent technology to charge reasonable patent fees."
As a concession to Chinese authorities, Qualcomm will offer licenses to 3G and 4G essential patents and will no longer require the bundling of those rights with other patents in its portfolio, the company said. For handsets sold in China, Qualcomm will charge a licensing rate that's similar to the royalty rates it charges elsewhere in the world, countering concerns that it would be forced to offer a discount to settle the investigation.
Profit Driver
While the percentage being charged is similar, the value of the handsets -- used as the basis for the calculation -- will be assessed at 65 percent of the device's total price for phones sold in China, Qualcomm said.
"We end up better-positioned as a company in China as a result," Chief Executive Officer Steve Mollenkopf said in a telephone interview. "It removes the uncertainty."
The company had $31.6 billion of cash and marketable securities at the end of its most recent quarter. While chip sales provided 74 percent of revenue in that period, licensing fees contributed 58 percent of pretax profit. The company has collected more than $30 billion in royalties in the past five years.
The chipmaker said it now projects revenue for the year that ends in September will be $26.3 billion to $28 billion, compared with a Jan. 28 forecast that revenue would be as low as $26 billion. Annual profit excluding certain costs will be $4.85 to $5.05 a share, Qualcomm said, up from an earlier estimate of $4.75 to $5.05.
Regulatory Scrutiny
The result of the investigation may also provide a guideline on how to proceed for non-Chinese companies facing regulatory scrutiny in that nation. Microsoft Corp. and Symantec Corp. also have been the target of Chinese government investigations, fueling concern that the country -- the world's second-largest economy -- is using such inquiries to boost its native enterprises.
Last year, Qualcomm said the U.S. Federal Trade Commission also is looking at its licensing division regarding fair and reasonable commitments, while the European Commission is examining rebates or financial incentives related to the company's baseband chip business.
Before it's here, it's on the Bloomberg Terminal.
LEARN MORE