Bernie Sanders Is Skipping Netanyahu's Speech to Congress
Introducing the first U.S. senator, and the first potential Democratic presidential candidate, to stake a position against the Netanyahu speech.
By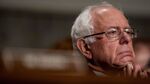 In a Q&A at the Brookings Institution, Vermont Senator Bernie Sanders said that he would skip Israeli Prime Minister Benjamin Netanyahu's speech to a joint session of Congress. Last week, Vice President Joe Biden's office had announced a scheduling conflict that would keep him away from the speech. Sanders had no such conflict: He was insulted by the end-run Republicans had done around the White House.
"I'm not thinking about it," said Sanders. "I'm not going. I may watch it on TV."
Sanders is the first U.S. senator, and the first potential Democratic presidential candidate, to stake a position against the Netanyahu speech. He's definitely the first Netanyahu-boycotter to have spent time working on a kibbutz in Israel. Sanders, who has defended the Jewish state in the past, was making a move that would have been unthinkable just a few months ago.
Tellingly, the question did not come from the assembled press. It came from an audience member, after Sanders snarked about how many media questions were focusing on whether Massachusetts Senator Elizabeth Warren would also run for president.
"This is kind of what media does," said Sanders, rebuffing a question about some recent progressive endorsements for Warren. "It likes to speculate. If you'll forgive me, I'm not into speculation."
Sander's speech resembled the one he'd been delivering at Iowa and New Hampshire pre-campaign stops. It started with an autobiography of his career in Vermont, and segued into his 12-point economic plan, with lots of criticism of the "oligarchy" ruining American democracy. In a brief interview with moderator E.J. Dionne, before the Q&A, Sanders mostly stuck to economic talk.
"Wall Street has become is an island unto itself, making as much money as it can in any way that," he said. "I happen to believe that the business model of Wall Street is fraud and deception." 
At Brookings, as he'd done at primary state speeches, Sanders talked openly about a 2016 presidential bid and what it would cost. "If you had 2 million people putting in $100, that's $200 million," he suggested. "Is that enough? I don't know. Maybe the game is over."
But the tone of the event—until the audience questions came in—emphasized just how foreign issues of national security have been in the invisible Democratic primary. Warren, whom progressive groups like MoveOn and the Working Families Party have made into their avatar, has made no effort to outline a progressive foreign policy. Sanders, who voted against the 2002 war resolution that began the war in Iraq, has not been pressed to talk about what he'd do in the Situation Room. At Brookings, when an audience member asked Sanders if he favored a new authorization of military force to define (and limit) the current campaign against ISIS, Sanders largely dodged the question.
"As this woman aptly pointed out, there are some colleagues in the Congress who really have a mind for endless war," he said. "I do not want to see an endless war in the Middle East." He talked about the hundreds of thousands of Iraq and Afghanistan veterans who'd come home and entered the Veterans Affairs health care system, and his work in the last Congress running the Veterans Affairs committee. But he did not take a position on a new AUMF. The debate about that, for now, is entirely among Republicans.