FYI: Scott Walker Was Married on Ronald Reagan's Birthday
The things we saw and heard on social media as Republicans (and even a few Democrats) celebrated what would have been the Gipper's 104th birthday on social media.
By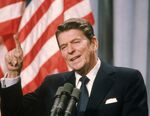 On Friday, Wisconsin Gov. Scott Walker tweeted two pictures to commemorate important anniversaries. One tweet read, "Happy Anniversary to my lovely bride Tonette" and showed a fresh-faced Walker, dressed in a tuxedo, standing beside his wife in her wedding dress in 1993.