politics
FYI: Scott Walker Was Married on Ronald Reagan's Birthday
The things we saw and heard on social media as Republicans (and even a few Democrats) celebrated what would have been the Gipper's 104th birthday on social media.
By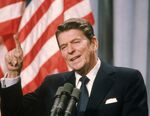 On Friday, Wisconsin Gov. Scott Walker tweeted two pictures to commemorate important anniversaries. One tweet read, "Happy Anniversary to my lovely bride Tonette" and showed a fresh-faced Walker, dressed in a tuxedo, standing beside his wife in her wedding dress in 1993.
The other, tweeted by the presumptive presidential candidate a bit more than an hour later, was a black-and-white portrait of man dressed in a sharp suit, hands enfolded in one another. "Today is the 104th anniversary of President Ronald Reagan's birth!" the tweet read.
Yes, the 40th President of the United States was born 104 years ago, on Feb. 6, 1911, but Republican contenders to be the 45th president—and a few other politicians—were eager to remember his legacy on social media on Friday, and connect him to their future.
Former Florida Gov. Jeb Bush, whose father was Reagan's vice president and whose political action committee for 2016 is called "Right to Rise," tweeted that we should "honor his legacy by giving all the opportunity to rise."
Carly Fiorina, the former CEO of Hewlett-Packard who now speaks about the power of entrepreneurship: "'There are no great limits to growth because there are no limits to human intelligence, imagination and wonder.' Happy Birthday Pres Reagan."
Former Texas Gov. Rick Perry tweeted a link to video of a Reagan Foundation event he headlined.
It went on and on. Former New York Gov. George Pataki put up a quotation ("Man is not free unless government is limited"). Ohio Gov. John Kasich wrote, "Pres. Reagan showed us that faith can guide us, make us stronger, and move us fwd." Texas Senator Ted Cruz and a whole host of other politicians, action groups, strategists, local parties, and public figures tweeted about the Gipper.
Even liberals got in. Vermont Senator Bernie Sanders, an independent who caucuses with the Democrats, tweeted a quotation in which Reagan lamented that tax loopholes benefit the wealthy unfairly. California Gov. Jerry Brown kept up the tradition of declaring the day in honor of his predecessor.
And just a reminder: Next year, it will be Reagan's 105th birthday. And we'll be in the middle of primary season.
Before it's here, it's on the Bloomberg Terminal.
LEARN MORE