Tom Cotton on the Guantanamo Terrorists Who Can 'Rot in Hell'
The GOP's great hawk hope finds his viral video mojo.
By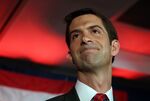 The political career of Tom Cotton began when he tried to publish a letter in the New York Times. It was 2006, and the newspaper had just run an exclusive story on a government program that tracked terrorist financing. Cotton, not yet 30, was serving with the 101st Airborne Division in Iraq. He started with a wry apology for "not writing sooner," then lit the blowtorch.