The Wedding Singers
Meet the man who helps fading pop stars live off private shows for rich millennials
By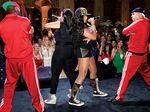 "I'm feeling a little bit lonely up here," says Sandra Denton, better known as Pepa of the rap group Salt-N-Pepa. "I'm looking for a man to come up onstage with me right now." For about 20 minutes, she's been watching a bride and her groom wave their arms to her rhymes. The couple hired Salt-N-Pepa, accompanied by their DJ, Spinderella, to headline their wedding, held in December at Donald Trump's Mar-A-Lago estate in Palm Beach, Fla. Out of the 300 mostly white guests, the groom and groomsmen heed Pepa's request first. Soon, they're dancing to 1994's Whatta Man.
Directly offstage stands Steve Einzig, the guy responsible for getting Salt-N-Pepa here for their 40-minute set. Einzig doesn't know the wedding couple (who wouldn't agree to be interviewed), but as the founder of Booking Entertainment he's in charge of the night's performers, who also include Rob Base and Young MC, known for their respective '80s hits It Takes Two and Bust a Move. "There's a big trend toward hiring performers for weddings," Einzig says. "They become part of your album."
Einzig, 44, has spent almost half his life helping clients schedule big acts for weddings, bar mitzvahs, and corporate events. His company, founded in 1996, has six employees and handles about 10 bookings a month. Some involve shipping an entire speaker system to a Caribbean island or securing tens of thousands of dollars worth of hotel rooms for a massive entourage. One early gig required flying soundboards from Texas to Berlin, then trucking them to Bulgaria. (When the drivers got lost en route, the client, a juice mogul, called his prime minister to have them escorted by the Bulgarian army.) "People find us online and will literally wire me a million dollars without ever having met," Einzig says.

That stopped happening as often in 2008; clients didn't want to appear extravagant when the economy was collapsing. But now, Einzig says, business has never been better. Last year was Booking Entertainment's biggest yet, with about 100 gigs and $4.5 million in sales, driven partly by the surge in requests for Nineties acts such as Salt-N-Pepa, Coolio, and Sugar Ray. "Those people who grew up listening to that music, they're in their 30s and have disposable income," Einzig says. "They might not want to admit it, but they've gotten to a point where they're nostalgic."
His website reveals pricing for most acts: Salt-N-Pepa cost about $50,000 a show, and Rob Base and Young MC each go for less than $15,000. Einzig's company takes a 15 percent to 20 percent cut, depending on the hassle of organizing the gig. "The music industry is like the stock market," he says. "You have your blue chip stocks like Kool & the Gang, who haven't had a hit in 30 years, but they have a body of work. They're going to stay the same price." That is, from $75,000 to $100,000. Stars who vanish after one big single don't fare as well: "Their price could be 30 percent of what it was at their height, but they're OK with that."
Marvin Young, aka Young MC, freely admits he's in that camp. The 47-year-old lives in Scottsdale, Ariz., has put on some weight, and still does about two shows a month. "We're lucky to be doing this," he says outside the Mar-A-Lago ballroom, wearing a No Fear motocross jersey, some 26 years after his breakout. Private shows can pay twice what a concert does, he says, without the pressure to pack a venue. "This is literally a business trip for me. I show up carrying a briefcase."
Booking Entertainment doesn't have exclusive rights to the artists, but Einzig says everyone is available for the right price, except maybe Bruce Springsteen. Many artists have no idea whom they're performing for ahead of time: Mariah Carey and Beyoncé both sang for then-Libyan dictator Muammar Qaddaffi's family in 2009 and had to issue apologies afterward. Einzig leaves it to each band to decide whether to take a gig. He didn't book those Qaddaffi performances, and for the most part he's avoided the tabloids—although a few financial titans he's worked for later wound up in jail.
Einzig has plenty of competition—including huge companies like AEG and Live Nation—but most of their shows are massive. Other bookers also might outsource the production, but Einzig prefers to work with the artists directly and do whatever it takes to keep them happy. "Steve always [shows up for] his engagements, which is very rare," said Gloria Gaynor, of I Will Survive fame, via e-mail. "He's a get-the-job-done type of guy—not bad to look at either." In Palm Beach he drove to Home Depot to buy a fan to keep Salt-N-Pepa cool during their set. The strangest artist request he's ever accommodated, he says, was from the late Donna Summer: "She wanted her entire greenroom wrapped in white sheets—the floors, the tables."

Einzig, who has a pronounced New York accent, still lives near the Long Island town he grew up in. "I have a wife, three kids, but I get to leave suburbia and go on the road with fun people for 48 hours, and we're treated to the best hotels and the best meals," he says. On off days, he plays bass in a cover group called the 44 Blues Band, often until 4 a.m., then sleeps a few hours before putting his kids on the school bus.
He's never needed much rest, which is partly why he decided to go into the music business at age 18. "We'd gone out one summer night and gotten completely drunk on tequila," he says. "I wrote down on a piece of paper, 'music business,' because I wanted to keep having fun like that for the rest of my life." The next day he found the slip of paper.
After graduating from the State University of New York at Albany, Einzig turned down a job at Atlantic Records and worked for concert promoter Richard Nader, setting up dates at Carnegie Hall and Madison Square Garden. Next, he spent two years helping represent James Brown at a talent agency. When he was 25 he started Booking Entertainment, after his brother told him about the Internet: "I said, If I can build one of these things called a website, I could not only buy talent for people, but produce the whole thing for them as a package." In 1999, Einzig bought his first apartment after earning $20,000 in just one week.

Most clients' requests are sentimental. Three years ago, one woman surprised her fiancé by having Weird Al Yankovic walk her down the aisle. "She met her husband at a Weird Al show, and he looked just like Weird Al. It was just their thing," Einzig says. When the groom saw his bride arm-in-arm with the singer, he burst into tears.
In 2012, Silicon Valley-based RichRelevance, a Web personalization company, hired Einzig to book Vanilla Ice for its Christmas party. The company's founder, David Selinger, is a die-hard fan of the white rapper and got to perform Ice Ice Baby onstage with his idol. After the company posted a video of it on YouTube, Selinger says, they saw a 20 percent jump in résumé submissions—the video made the office look fun. "I actually still perform Ice Ice Baby at the holiday party every year," he says. "But now I have to do it by myself."

It's midnight back at the Mar-A-Lago, and Salt-N-Pepa have finished their set. "If every wedding was like this, I'd go to them all," gushes Matt Munski, 34, the husband of a close friend of the bride. "Salt-N-Pepa was one of my first cassettes."
Young MC and Rob Base have left for their hotel rooms, but Einzig and Base's 30-year-old nephew, Michael Walker—who works as Base's DJ—are gearing to go out in nearby Delray Beach. "Trump was at the wedding earlier, with two bodyguards," Einzig says. "The Donald!" Walker exclaims. Before arriving on-site, he admits, he hadn't known he'd be performing at a "five-star" wedding. "Crowds like that, I like. They know what they're getting," Walker says. "Some of the grandmothers were bumping, too."
Before it's here, it's on the Bloomberg Terminal.
LEARN MORE