Cambodia's Wages Rise, Orders Don't
A year after garment worker strikes, pay is up 63 percent
Christina Larson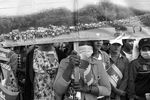 In the factory dorm room she shares with three other garment workers on the outskirts of Phnom Penh, 25-year-old Chheav Sarun has hung two framed photos above her bed. One is of her wedding, taken in 2011; the other is a portrait of her husband, who died just over a year ago from gunshots that pierced his abdomen and lungs. He was one of at least five garment workers shot by military police on Jan. 3, 2014.
The shootings were part of a crackdown on a nationwide strike by workers demanding a raise in the monthly minimum factory wage. Two weeks later, 33 customers of the Cambodian plants, including Adidas, Gap, and H&M, sent a letter to Prime Minister Hun Sen demanding a judicial investigation into the killings.
Wages have risen from $80 a month before the strike to $128. It's a victory for the workers, and one with worrisome repercussions. For the first 11 months of 2014, orders for apparel and footwear from Cambodian factories increased just 1 percent from the previous year, according to the Garment Manufacturers Association in Cambodia. That's a sharp reversal from the 20 percent annual growth for much of the past decade, says Ken Loo, secretary-general of the association. Loo says rapid wage hikes, frequent strikes, political instability, and negative media coverage have damaged the competitiveness of Cambodian factories.
At Canadia Industrial Park, the factory complex outside of Phnom Penh where workers were killed last January, 29-year-old seamstress Vorn Kanha says she's pleased about the recent raise. She plans to send the extra money home to her in-laws, who are caring for her three young children in the countryside. Another worker, 35-year-old Chheang Thida, says her employer, Kin Tay garment factory, has furloughed her and other factory workers until Feb. 10 because of a reduction in orders. When the factory opens, managers say, not everyone will be guaranteed a job again. Kin Tay's owners declined to be interviewed.
Cambodia still enjoys duty-free export access to several important markets, including Canada, the European Union, Japan, Korea, New Zealand, and the U.S., a crucial advantage, but its low-wage edge has eroded. Labor accounts for about a fifth of the country's apparel manufacturing costs, says Loo. Its effective minimum wage—$128 a month plus a mandatory $17 monthly allowance paid by the employer for transportation and housing—is equal to the high end of wages in Vietnam (about $145) and significantly above Bangladesh's $68. Loo says Cambodia may be pricing itself out of business. The garment industry "migrates from one country to another," he says. "It moves around seeking out the country with the lowest labor cost."
Yang Sophorn, president of the Cambodian Alliance of Trade Unions, says that at the negotiations following the strike last year, representatives of the garment industry said: "If the salary increased, probably a lot of factories would have to close." He says he's aware of the risk, but so far he hasn't seen evidence of many closures.
For now, Cambodia's multinational customers seem to be taking a wait-and-see approach: not abandoning the country, but wary of increasing orders. One question is whether wages will continue to climb steeply, forcing American and European retailers to source elsewhere. Another is whether violence or political instability will erupt. Says Ida Stahlnacke, a spokeswoman for H&M: "We are dependent on stable markets in which people are treated with respect."
The bottom line: After years of 20 percent average growth, Cambodia's garment industry had a 1 percent gain in orders for most of 2014.
Before it's here, it's on the Bloomberg Terminal.
LEARN MORE