Walker's Wisconsin Budget Aims at Party Voters Ahead of 2016
John McCormick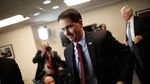 Wisconsin Governor Scott Walker, seeking to shape his state in a way that may boost his 2016 Republican presidential prospects, outlined a two-year budget that will please his party's core voters.
The second-term governor called for reduced funding for a university known for its Democratic leanings, drug screening for some who receive unemployment insurance or public assistance and the removal of a cap on the state's private-school voucher program.
The next five months will be critical for Walker's ambitions if he runs, as he tries to balance travel associated with a national campaign against moderating the debate in his home state's legislature over his own policy goals.
"Our plan is based on growth and opportunity, which leads to freedom and prosperity for all," Walker, 47, said Tuesday to a joint evening session of the legislature at the state capitol in Madison. "Our plan will use common sense reforms to create a government that is limited in scope and -- ultimately -- more effective, more efficient, and more accountable to the public."
Walker, who made a national name for himself in 2011 by moving to limit collective bargaining for most of the state's public workers, will be helped by the fact that both chambers are under Republican control. Wisconsin Democrats, however, aren't shy about trying to block his national ambitions.
On stages outside Wisconsin, Walker presents his state as a successful laboratory for the sort of limited-government mandate pushed by his party's base and top donors. Those themes were woven throughout his speech, in which he also proposed drug testing for able-bodied adults without children who get a welfare check.
University Activism
"Some might claim that we're making it harder to get government assistance," he said, highlighting one part of his almost $70 billion plan. "We're not. We're making it easier to get a job."
The budget would eliminate about $300 million from the state's university system, a roughly 13 percent cut. The system's flagship, the University of Wisconsin in Madison, has a tradition of anti-war activism and provided much of the youth energy behind the protests that confronted Walker during his union fight.
His plan would also continue a tuition freeze for two years and grant more freedom from state oversight to the system, which university officials have sought.
Looking Nationally
Democrats mocked Walker's budget.
"The governor has his eye on Iowa and New Hampshire and places outside of Wisconsin," Peter Barca, the Democrats' leader in the Assembly, told reporters. "That's why you don't have a sustainable transportation fund. That's why you expand vouchers statewide at a when you are giving virtually not a dime for public schools."
It's easy to find Walker opponents in Wisconsin. A group of them visits the state capitol on an almost daily basis to protest his policies, including proposed university cuts.
"That's probably one of the worst things he's done, among a long list of them," said Don Johnson, 78, a retired college arts professor from a Madison suburb, who demonstrated against Walker at the Capitol ahead of the budget address. "If he were to win the presidency and do to the U.S. what he has done to Wisconsin, this country would be third-world in a matter of months."
Budget Shortfall
Without changes, Wisconsin faces a budget shortfall that may reach $2.2 billion in a two-year period starting in July, according to his administration's analysts. Tax cuts promoted by Walker, along with Medicaid spending, are contributing to the deficit.
Walker aides have called the projections premature, while Democrats say the figures prove the governor's policies -- especially income and property-tax reductions -- turned a $517 million surplus at the end of June into a deficit.
Walker won re-election to a second four-year term in November, boosting his status among Republicans who applauded his move to restrict collective bargaining. He also survived a recall attempt in June 2012.
A Bloomberg Politics/Des Moines Register Iowa Poll taken last week in the state that a year from now will start the presidential nomination voting showed Walker leading a wide-open Republican race with 15 percent, up from just 4 percent in the same poll in October.
Fighting Labor
His bounce came on the strength of his Jan. 24 speech at the Iowa Freedom Summit, a gathering of more than 1,200 social conservatives in Des Moines. The two-term governor, often criticized as a dull speaker, captivated the crowd with a vivid account of threats to his family four years ago during his fight with organized labor, and his efforts to push tax cuts and anti-abortion policies.
Walker made his national ambitions clear the night before he delivered the budget address, when he conducted a conference call with Iowa Republicans and sold himself as a one of his party's "fresh faces" exploring a potential White House bid. In the past week, he's also hired several operatives with presidential campaign experience for his newly formed political committee, "Our American Revival."
Democratic lawmakers have an agenda at odds with the one described in Walker's budget proposal. They want to see the state raise its minimum wage of $7.25 and accept federal money for Medicaid expansion provide through Obamacare.
The legislature will now sort through Walker's proposal and pass a spending plan, likely in June.