business
This Is the Most Stressed-Out Person in America
New research into the causes of stress and how we relieve it offers a portrait of an anxious country
By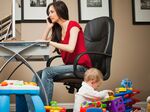 She's a woman in her late 20s or early 30s, taking her young son to school on the bus. After she drops him off, she might sneak a quick cigarette before heading to a job that pays less than $50,000 a year. Just another young parent trying to juggle work and family, money and bills.
Or, more accurately, one big ball of composite demographic stress. This woman is a blend of what the American Psychological Association's 2014 "Stress in America" survey, released on Wednesday, identifies as the most stressed-out parts of American society. While average reported stress levels are down—at 4.9 on a 10-point scale, compared with 6.2 in 2007—"stress is not going down as much for women, for people with low incomes, for young adults, or for people who are parents," says Norman Anderson, chief executive officer of the APA.
Money remains the top source of stress across the U.S., with work close behind for those employed, followed by the economy, family responsibilities, and personal health concerns. Here's a breakdown of the Americans who most need a spa vacation—and/or a big fat raise—right now:

Millennials
Americans age 18 to 35 are feeling the most economic heat, and Gen X-ers are right behind them. Millennials pegged their overall stress level at 5.5 on a scale of 1 to 10 and were the most likely generation to say this level rose in the past year—36 percent of millennials, vs. 30 percent of Gen X-ers.
Millennials also reported some of the highest levels of stress related to finances, rating their money angst at 5.4, which compares with an average of 4.7 for all of the adults surveyed by Harris Poll for the APA last August. Three-quarters of millennials and Gen X-ers reported money as a somewhat or very significant source of stress, compared with 64 percent of Americans overall. And managing stress isn't a skill either generation has mastered yet. Many millennials reported feeling isolated or lonely because of stress, although they also reported having an average of 4.8 close friends—hopefully ones they don't communicate with only on Snapchat.

Women
Women have reported higher overall stress levels, and higher stress about money, than men have since the APA's survey began in 2007. The gender stress gap is most notable since 2010, when women reported their stress at 5.5 and men at 5.3. In 2014 those numbers are much farther apart, at 5.2 and 4.5, respectively, and men's stress is going down at a faster rate. Thirty percent of women in the survey said they feel stress about money all or most of the time, compared with 21 percent for men. In a finding that will surprise no one, women were more likely than men to say stress affects their eating, with 41 percent saying they've eaten too much or had unhealthy food during the past month because of stress; for men it's 24 percent.

Parents With Kids Under 18
Parents of children under age 18 pegged their overall stress level at 5.7 out of 10, and 34 percent said their overall stress has risen in the past year. Money worries among parents, which they placed at 5.8, were, as you'd expect, much higher than for nonparents, who rated their money-related stress at 4.4. About the same percentage of parents and millennials said paying for essentials is a somewhat or very significant source of stress—58 percent vs. 57 percent, respectively, compared with 44 percent for Americans overall.
On a scale where 1 is "not at all financially secure," and 10 is "completely financially secure," parents gave themselves a 5; the average for all adults was 5.5. Making ends meet isn't easy, with more than 70 percent of parents saying they had "just enough" or not enough money at month's end. While 38 percent of Americans cite health-care costs they must pay out of pocket as a somewhat or significant source of stress, that's the case for almost half of parents and Gen X-ers. 
Low-Income Households
There's a widening wealth gap in America, and a stress gap to go along with it. In 2007, both lower-income (making less than $50,000) and higher-income households ($50,000 or more) reported stress levels of 6.2. Since 2010, though, a gap has steadily widened, with lower-income households now pegging their stress at 5.2, and higher-income households placing theirs at 4.7. While 36 percent of adults in lower-income households reported feeling stress about money all or most of the time, 18 percent of higher-income households said the same thing.
So while research shows that making a lot more money doesn't necessarily bring an equivalent amount of happiness, it does apparently cut stress.
How Americans Manage Stress
In a word: badly. Surfing the Internet is a big way Americans try to lower their anxiety. Among the slices of generations reporting high levels of money-related stress, the group most likely to surf the Web to de-stress was millennials, 67 percent of whom cited the activity, followed by lower-income households (58 percent), women (57 percent), and parents (48 percent). Vegging out in front of the TV is another time-honored technique, and millennials again led, with 58 percent of them binge-watching regularly. Some 25 percent of parents under extreme stress said they turn to smoking. Highly stressed women were the least likely to grab a cigarette, at 19 percent, followed by millennials (21 percent) and low-income households (25 percent). 

Before it's here, it's on the Bloomberg Terminal.
LEARN MORE