Rand Paul's 'Own Your Children' Argument is About More than Vaccines
The senator's remarks on mandatory vaccination are telling.
By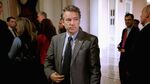 Kentucky Senator Rand Paul spent the early part of the week attempting to clarify his stance on mandatory vaccination after he argued that the decision to immunize was best left to a child's parents. Making his case, Paul put forth what many might consider a common sense argument.