Jeb Bush to Test Economic Campaign Message in Democratic-Leaning Michigan
The former Florida governor will focus on economic disparity during a speech in automotive heart of America.
By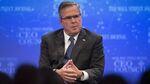 Jeb Bush will deliver the first in a series of presidential campaign-like speeches Wednesday in, of all places, Detroit, the most populous city in a state that hasn't voted for a Republican presidential candidate in almost three decades. 
And yet, there may be no better place for the former Florida governor to start fleshing out the narrative of what will be a dominant theme in his still unofficial presidential campaign: How to improve economic standing for a majority of Americans who feel they've been left behind in the recovery.
"Bush's message will resonate here," former Michigan Republican Party Chairman Saul Anuzis said in an interview. "These are Reagan Democrats—the working class, culturally conservative voters who made us a majority party in the 1980s. We need to return to that."
While Bush seeks to reach out to middle-class voters, he'll be speaking directly to the Detroit Economic Club, which includes influential business executives such as William Clay Ford, executive chairman of Ford Motor Co., and Penske Corp. Chairman Roger Penske, and major Republican Party fundraisers, like the group's past president, John Rakolta, CEO of Walbridge Co., an international construction company. The economic club, which claims about 3,300 members, has hosted every U.S. president since Richard Nixon.
For his speech in Detroit, which is expected to include a question-and-answer session with the audience, Bush will talk about what he sees as the top challenges facing the country and argue that the nation's economic recovery has passed by middle class families and is holding back those stuck in poverty. He'll also start to broadly outline potential solutions. "Governor Bush is looking forward to being in Detroit and giving the first of many addresses on restoring the right to rise in America and expanding opportunity for all Americans," said Kristy Campbell, a Bush spokeswoman.
Bush has sketched a broad outline of these themes since announcing in December the creation of political fundraising committees as he pursued a potential presidential campaign. Bush named his committees "Right to Rise," a concept he's described as "the right to pursue economic opportunity and happiness" and as the antidote to growing wage disparity in America.
"We are in the fifth year of a recovery, 60 percent of Americans believe we are still in recession," Bush said in a speech last month to the National Automobile Dealers Association in San Francisco. "They are not dumb. It is because they are in a recession. They are frustrated to see a small portion of the population on the economy's up escalator. Portfolios are strong, but paychecks are weak."
Six in 10 Americans say they're satisfied with opportunities for a person to get ahead in the U.S. by working hard, according to a Jan. 30 Gallup poll. That was up from 54 percent in 2014. But from 2001 through 2008, the lead up to the great recession, between 66 percent and 77 percent of Americans voiced their satisfaction with the chances of getting ahead. 
Gallup's U.S. Economic Confidence Index also suggests Americans are starting to feel better about the economy. The index has been positive for each of the past six weeks, finishing January with an average score of plus-3—the first time a monthly average has been in positive territory since the recession began in 2008. The monthly index score was up eight points from December—the highest month-to-month increase in more than a year.
At the San Francisco event, Bush also gave a glimpse into how close he is to officially announcing a campaign by refuting a question about whether he was on the fence about a White House campaign, and telling the crowd he was "seriously considering the possibility of running." His actions also suggest a candidate who is nearly ready to go. Bush told donors in Washington last month that he planned to hold 60 fundraisers in the final 70 days of the first quarter of 2015, a ferocious pace that suggests the former governor wants to send potential rivals a strong statement about his fundraising prowess.
And the Bush team has also been moving to hire senior-level staff for a national campaign. Iowa's Dave Kochel joined the team and is positioned for the role of national campaign manager should Bush formally enter the race. Danny Diaz and John Downs, both founding parters of the Washington-based firm FP1 Strategies, have been hired to advise messaging and advertising for Bush's leadership political action committee, and would slide into senior roles of a presidential effort. Bush has also hired a team in Tallahassee, Florida's capital city where senior adviser Sally Bradshaw is based.