Alibaba Drones Fly Over Beijing While Amazon Pleads for U.S. Tests
Lulu Yilun Chen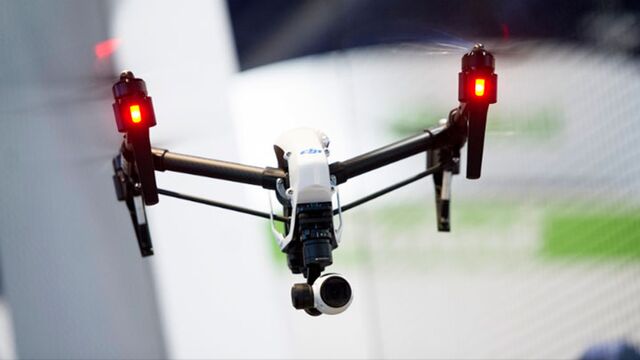 Alibaba Group Holding Ltd. is making its first trial drone deliveries in China, as e-commerce rival Amazon.com Inc. struggles to start a similar program in the U.S.
Asia's largest Internet company is partnering with Shanghai YTO Express Logistics Co. to deliver ginger tea packets to 450 Chinese customers who volunteered for the one-time drone tests, according to an e-mailed statement from Alibaba. Remote-controlled helicopters are expected to distribute 50 parcels from Alibaba's Taobabo Marketplace in Beijing Wednesday, before moving to Shanghai and Guangzhou.
The flights, if successful and uncontested by authorities, would give the budding commercial drone industry a boost in China, where the military allots only a fifth of the airspace to civilian use. Amazon -- the largest Internet retailer by sales - - has begun testing remote deliveries abroad after asking the U.S. Federal Aviation Administration to speed approvals for drones tests in Washington state.
"China is still in the initial phase of establishing regulations on commercial usage of drones, a lot of areas are still completely blank," Zhang Qihuai, an attorney at the Beijing-based Lanpeng Law Firm, said by phone. "Key regulations regarding flight altitude, accountability for accidents have not been established yet. There's still a long way to go before drone can really be commercial used in China."
Alibaba and YTO said they have notified Chinese aviation authorities about the flights as required by regulation and believed that the deliveries complied with all existing rules.
Licensed Pilots
At least one of the drones was expected to fly from YTO's warehouse in the eastern outskirts of Beijing and reach the 330 meter (1,100 feet) China World Trade Center in less than an hour. A deliveryman will await the parcel's arrival on the ground floor and carry it to customer, Jia Yun, a Taobao spokeswoman, said by phone from Beijing.
The Civil Aviation Administration of China issued regulations to 2009, requiring operators of drones to be identified when applying to use such devices, according to a posting on the agency's website. Chinese regulators are considering license requirements for drone operators, a step the FAA is also discussing for unmanned commercial flights.
Two calls to the Civil Aviation Administration's public affairs office went unanswered.
YTO has no specific plans to promote drones on a larger scale and lot of issues must first be addressed, said Ren Xue, the company's Shanghai-based spokesman.
White House
U.S. moves to restrict commercial drones have frustrated Amazon's plans to fly light packages to customers in 30 minutes or less. Drone use in the U.S. was dealt another setback last month after an operator lost control of a SZ DJI Technology Co.- built quadcopter and it crashed on White House grounds, according to the Secret Service.
U.S. President Barack Obama later stressed the importance of rules to ensure drone safety.
The Shenzhen, China-based SZ DJI accounts for more than half the mini drones sold globally, the official Nanfang Daily reported Tuesday. Xue declined to say what company made the drones used in the Alibaba flights.
Before it's here, it's on the Bloomberg Terminal.
LEARN MORE