Florida Voters Not Hot on Marco Rubio Running for President
Sixty-eight percent of GOP voters surveyed said Rubio should not run for president.
By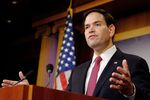 If Florida voters had their say, Marco Rubio would stay in the Senate and ditch whatever plans he may have of running for president. 
A new Mason-Dixon poll found that just 15 percent of 625 registered voters in the Sunshine State wanted Rubio to seek the Republican presidential nomination, while a whopping 57 percent said it would be better if he would instead seek re-election in the U.S. Senate. 
Perhaps even more surprising, Republicans were even more convinced that Rubio should not consider quitting his current day job. Sixty-eight percent of those surveyed said Rubio should try and return to the Senate, while just 19 percent said he should hop into the presidential race. 
Republicans were far more kind to Jeb Bush's presidential aspirations, with 59 percent indicating they thought the former governor of the state should run for president, compared with 31 percent who said he should not. 
A Bloomberg Politics/Des Moines Register poll released over the weekend showed that just three percent of Iowa Republican caucusgoers picked Rubio as their first presidential choice. Bush received eight percent support in the poll, which was taken before Mitt Romney announced he would not seek his party's nomination. 
Rubio will head back to Iowa this month to kick off a publicity tour for his new book, , the Tampa Bay Times reported.