Mike Huckabee Talks About His Gay Friends
The likely presidential candidate says he doesn't "chuck people out" of his life for having different viewpoints.
By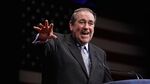 Mike Huckabee says that the fact someone is gay isn't a deal-breaker for his friendship with them, but that his Christian views on same-sex marriage won't change.
Appearing on CNN's State of the Union on Sunday, the former governor of Arkansas and likely 2016 presidential candidate discussed a passage in his book, God, Guns, Grits and Gravy, in which he writes about having gay friends and hiring gay staff members. "People can be my friends who have lifestyles that aren't necessarily my lifestyle," he said. "I don't chuck people out of my circle or out of my life because they have a different point of view. I don't drink alcohol, but, gosh, a lot of my friends, maybe most of them, do."
His takes on social and cultural issues in the book have drawn heat in recent weeks—including his criticism of the Obamas for letting their daughters listen to Beyonce's music—as a new Bloomberg Politics/Des Moines Register Iowa Poll shows he performs strongly among likely GOP caucus-goers in the key nominating state when it comes to "reflecting traditional values."
Other differences he pointed out between himself and his friends were that some use profanity, and some enjoy classical music, ballet, and opera, none of which Huckabee is crazy about, he said. 
Huckabee said his views on gay marriage are pretty much the same as President Barack Obama's were in 2008, and said "there is room in the tent" for Republicans who are in favor of same-sex marriage. But, he added, asking someone who is Christian to accept same-sex marriage would be like asking a Jew to forsake dietary laws. 
"It's like asking someone who's Jewish to start serving bacon-wrapped shrimp in their deli," he said. "Or asking a Muslim to serve up something that is offensive to him, or to have dogs in his backyard. We're so sensitive to make sure we don't offend certain religions, but then we act like Christians can't have the convictions that they've had for 2,000 years."
Huckabee acknowledged his third-place overall showing in the Bloomberg Politics/Des Moines Register Iowa Poll when 2012 nominee Mitt Romney was excluded from the results.
"It's a little early to take too much into it," Huckabee said, adding: "Now, quite honestly, if I were at the top of the poll, I would tell you this is very significant."