White House to Cuba: No Deal on Returning Guantanamo Bay Base
Close the prison? Yes. Close the Navy base? No way, says the White House.
By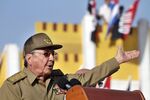 President Barack Obama's push to normalize relations with Cuba will not include a deal to give up the U.S. Navy base at Guantanamo Bay.
At a White House briefing on Thursday, press secretary Josh Earnest said that Obama's desire to see the prison at Guantanamo shut down should not be mistaken for an intention to cede control of the entire base back to Cuba. 
"The President does believe that the prison at Guantanamo Bay should be closed down," Earnest said, repeating Obama's position that the terrorism detainee facility serves as a recruiting tool for al Qaida and other extremist groups.  "But the naval base is not something that we believe should be closed."
Earnest's comments came after Cuban leader Raul Castro delivered a speech earlier this week and demanded that the U.S. return Guantanamo to the Cubans as a condition for normalizing relations, along with lifting the U.S. embargo.
While Obama seems prepared to endure Republican criticism over his move to re-establish ties with Cuba, the second-term president is aware that relinquishing control of the naval facility would be met with much stiffer political consequences. 
Earnest also indicated that the notion of the U.S. turning over Gitmo as part of the outreach to Cuba was never on the table, and said that, to the extent he hadn't clearer about that before, "I was able to obtain additional information that allows me to conclusively rule out any discussion about returning the military base in Guantanamo Bay to the Cubans."