Scott Walker is Out of Mitt's Shadow—But Staying In the Spotlight Is A Challenge
In a D.C. speech, the Wisconsin governor expands his presidential case.
By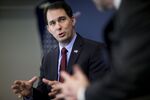 Wisconsin Governor Scott Walker was the breakout star of last weekend's Iowa Faith and Freedom Summit, elbowing aside bigger names like Mitt Romney and Jeb Bush to seize the 2016 Republican presidential spotlight. Walker had hoped to keep the spotlight by delivering a big speech in Washington on Friday. Instead, Romney seized it back.