politics
Rand Paul 'Intercepts' Weirdly Conspiratorial Bush-Clinton Phone Call
From the UK punk scene to the hills of Kentucky.
By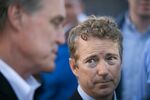 Kentucky Senator Rand Paul has borrowed a tactic pioneered by the anarcho-punk band Crass. This week, Paul's PAC released what it playfully advertised as a "secret tape" of political adversaries, caught plotting over the phone. What Crass did for Ronald Reagan and Margaret Thatcher, the Kentucky Senator's supporters have now done for Jeb Bush and Hillary Clinton.
"Maybe we can work something out," says a realistic-sounding Clinton. "We both agree on so many issues: bigger government, Common Core, and amnesty for illegal immigrants."
"You've got problems with the grass roots," says Bush, "and I've got all those damn conservatives. What say, we make a deal?"
The "tape," noticed first by Mike Allen, concludes a busy and productive day of trolling by Paul. He'd already whacked Bush over common core in an email. And his committee buys web ads to make sure anyone accidentally interested in a top Republican rival will stumble across his messaging.
Before it's here, it's on the Bloomberg Terminal.
LEARN MORE