The Dickey Is Back: Make Your Office Wear More Stylish
By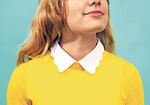 Dickeys have changed my life. And no, a "dickey" isn't some newfangled Urban Dictionary term, funny guy, it's a false shirt—a collar attached to a bib of fabric. Dickeys were popular in the late 19th century as part of men's formalwear, then came back in the '50s among resentful schoolgirls.
For working wardrobes, they're genius. Tucking a collared shirt under a sweater or dress adds polish. It also adds bulk. And sweat. And for a larger-chested lady, it's impossible to find a blouse that doesn't gap across the front. A dickey solves these problems.

Many fashion brands, such as Ann Taylor and Rag & Bone, have begun making knits with built-in collars, but the best dickeys come from COS, the minimalist European sibling of H&M that began selling online in the U.S.—and at new Los Angeles and Manhattan stores—last year. The dickeys ($29; cosstores.com) are sold in white and light blue, in rounded and scalloped collars, and are prominently displayed by the cash register, like lip balm at Sephora, encouraging customers to act on impulse. They have side straps to keep them from shifting throughout the day. I use a bit of double-sided tape between the buttons to eliminate lumps. Less fabric means less dry cleaning. And your colleagues will never know you're wearing, in the words of Arrested Development's Gob Bluth, an illusion.
Before it's here, it's on the Bloomberg Terminal.
LEARN MORE