Lindsey Graham's 2016 Exploration Takes Shape
The South Carolina Republican offers new details on his White House deliberations.
By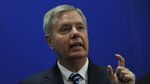 Senator Lindsey Graham offered new details on his White House deliberations on Thursday, saying he had formed a group called Security Through Strength to consider whether to jump into the wide-open 2016 race.
"We'll see if there's a pathway forward for a guy like me," the South Carolina Republican said on Fox. "Time will tell." 
On its website, the organization says its purpose is to "fund the infrastructure and operations allowing Graham to travel the country, listen to Americans, and gauge support for a potential presidential candidacy."
Graham said Jan. 18 on NBC's Meet the Press that he had set up a "testing-the-waters" group as he weighed the campaign decision.
"We're not polling, but we set up a testing-the-waters committee under the IRS code that would allow me to look beyond South Carolina as to whether or not a guy like Lindsey Graham has a viable path," he said. "I don't know where this will go, but I am definitely going to look at it."
Catherine Dodge contributed to this report.