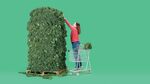 John Mackey, the co-founder and co-chief executive officer of Whole Foods Market, is making for the produce section of his 80,000-square-foot flagship store in Austin, Texas. He walks with a slight limp, the result of osteoarthritis in his hip after years of jogging and basketball, so it's easy for customers to recognize him and chat him up.
One, clutching a ground beef and veggie taco lunch, tells him he's been shopping at Whole Foods for three decades. "You don't look old enough to have eaten here for 30 years," says Mackey. He stops by an elderly woman picking through a container of pink lady apples. "These are not organic, but I happen to know for a fact the grower does incredible things in the way they take care of the soil," he tells her. Other customers turn to each other and whisper as Mackey passes. The fishmongers and meat cutters behind the counter call out his name.
Mackey is the graying heartthrob of mindful groceries. Over the past 37 years he's helped popularize the notion that Americans should devote more thought—and money—to their food. He took what had been a college town's alternative grocery, with bins of grains and lentils, wilting veggies, and biodegradable soaps, and built a high-margin supermarket chain with almost 400 stores in 43 states and $14.2 billion in annual revenue. On the strength of its share price, Whole Foods briefly became the second-most valuable food retailer in the U.S., behind Wal-Mart Stores, in the fall of 2013. But Whole Foods, unaffectionately known as Whole Paycheck, had a lousy 2014. Same-store sales growth fell from 8 percent to 4 percent, and its share price tumbled 10 percent. Meanwhile, competition is squeezing Whole Foods like an organic lemon over a bowl of quinoa.
On one side are traditional chains such as Kroger, Safeway, and Wal-Mart, which have rushed to add soy crackers and $5 half-gallons of organic milk to their shelves. On the other are fast-expanding regional and national grocers catering to Land Rovered cosmopolites—Sprouts Farmers Market, Fresh Thyme Farmers Market, and Trader Joe's, the last of which spread to Colorado, Florida, and Texas in 2013 and 2014. These chains offer grass-fed beef and probiotic yogurts as well, and the additional locations are carving up Whole Foods' once-devoted customer base.
Mackey is in the awkward position of having to explain why Whole Foods can thrive in the very world he created. Which is why he's eager to tour the fruit and vegetable aisles of his Austin store. Dangling over the displays are a series of SALE! placards in red letters. The company was once reluctant to compete with rivals purely on price, but here are signs proclaiming that organic broccoli is marked down to $1.48 a pound and two boxes of Driscoll blackberries are $3. Mackey points out a sign across the aisle: The seedless navel oranges and green kale are "responsibly grown." The produce gets ratings—good, better, and best—based on farmers' records in water conservation, worker safety, and other metrics. Some goods at Whole Foods cost more, and he wants to tell you why. "Look at where your eye goes when you walk into the store," Mackey says. "We are now going to make sure we tell customers what we are about: values and value."

A libertarian with a hippie streak, who rails against creeping nanny-statism (Obamacare, minimum-wage laws) and the soullessness of corporate America, Mackey is challenging some of his own cherished beliefs. He's down with advertising now. For the first time in Whole Foods' history, the chain is running national ads: It's spending $15 million to $20 million on a campaign that features rugged-looking farmers and fishermen vowing that "values matter." And the company's finally using one of the oldest tools in the supermarket toolbox, which Mackey resisted for years: a loyalty program.
It's too early to determine how these changes will play with consumers, but at least one constituency is enthusiastic: the competition. "They're becoming more and more like a traditional grocer," says Rob Spiro, the CEO of Good Eggs, a Silicon Valley-based organic food delivery service, who says there's now room for other companies to forge strong bonds with foodies. "They aren't at the forefront of food consciousness in the way they were four or five years ago."
 
 
In 1978, Mackey opened Safer Way Natural Foods, his first health food store, on an Austin city block about a half mile from Whole Foods' current headquarters. The tiny store, which he founded with his then-girlfriend and $45,000 borrowed from family and friends, didn't stock meat, sugar, coffee, white flour, or alcohol. "It was a pure store," Mackey says. "And it didn't do any business."
Mackey eventually merged Safer Way with a crosstown rival, renamed it Whole Foods, and moved to a larger space inside a former nightclub. Although his personal tastes have remained health-conscious—he went vegan 11 years ago—pragmatism caught up with earnestness. The stores began to sell duck confit and rib-eye steaks, and Mackey scandalized purists by stocking gluten-free cheesecakes and other heretical but profitable products. "We never wanted to be holy foods market," he says. "We want to be a one-stop grocery store."
Mackey proved that people would pay extra for food if it was plausibly earth-friendly. So there are no Doritos or Coca-Colas, but you'll find fair-trade chocolate bars and cranberry kombucha. Whole Foods opened hundreds of stores from 1990 to 2014, in part by snapping up regional health food chains, and attracted a zealous workforce inspired by its mission of bringing healthy food to the world. Cities competed for stores; shoppers competed for parking spots.

The company knew only good times until late 2007 and the global financial crisis. As even well-heeled shoppers started looking for discounts, same-store sales growth went negative for the first time during its 2009 fiscal year, and the stock price fell from $30 to $4 a share. Wall Street analysts condemned Whole Foods as a high-cost operator that couldn't compete in tough times and wondered whether it had the capital to ride out the recession.
Walter Robb, Mackey's operationally minded co-CEO, calls the Great Recession the company's first "crucible moment." At the time, Whole Foods was highly decentralized, with regional managers making decisions on merchandising and prices while getting rewarded for quarterly financial performance. The system motivated them to keep prices and profits high, particularly in markets without local competition from other health food retailers. That reinforced the Whole Paycheck image—a nickname that the company improbably claims started out as praise from a devoted customer who said he felt tempted to empty his bank account at the store. "A lot of consumers still think of Whole Foods in that way, as an elitist store that isn't within their reach or even a place where they want to shop," says Carlotta Mast, executive director for content and insights at New Hope Natural Media.
As the economy recovered, so did Whole Foods, posting some of its best years. Its stock price rose to $60, and in the fall of 2013, its market capitalization exceeded that of Kroger, the 130-year-old giant that operates more than 2,000 stores. The visible trend toward healthy, natural foods sparked a new wave of competition. Fresh Thyme, backed by $50 million in private equity, started an aggressive expansion across the Midwest. Sprouts, a Phoenix-based grocer with an emphasis on smaller stores and cheap produce, had one of the biggest initial public offerings of 2013. It's now in 11 states.
At the same time, traditional supermarkets, noticing that shoppers were losing their taste for processed foods, scrambled aboard the healthy foods bandwagon. "Everyone seemed to realize at the same time that the market was tipping," says Robb.
Suddenly it became clear that Whole Foods was vulnerable. In a terrible earnings report last May, the company cut its same-store sales and earnings forecast for the third time in 12 months; the stock fell 15 percent. The next day, Whole Foods' management council of seven executives, dubbed the "e-team," met in the company's sixth-floor conference room in Austin and agreed they hadn't done enough to prepare for the competition. "We were no longer relevant," says Robb. "John and I were the stupidest guys around."
 
 
Mackey and Robb have one of the most unconventional partnerships in American business. Robb sold his Mill Valley (Calif.) supermarket to Whole Foods in 1991 and, with Mackey's support, was promoted to co-CEO in 2010 after getting offers to lead other companies. The pair now describe themselves as equal partners, with each involved in running the business and guiding the long-term vision.
They share a fashion sense one might call "free-range businessman"—crosshatched button-downs with earth-tone undershirts and loafers. Robb awkwardly describes the partnership as "marriage without the sex." Informed of that metaphor, Mackey says, "Walter and I have a platonic relationship," then thinks for a moment. "That would be a hot scandal, wouldn't it?"
In separate interviews, the co-CEOs give different reasons for the growth slowdown. Mackey says it was primarily the result of Whole Foods' own aggressive expansion. New locations drew customers from older stores, a situation that should have corrected itself as the entire market grew. Robb argues that the company had fundamentally underestimated the speed with which all of retail was changing and natural food was becoming ubiquitous. "All of a sudden there was the narrative that you can get the same stuff in many other places and you could get it for cheaper," he says.

Mackey likes to quote economist Paul Romer's line that a "crisis is a terrible thing to waste" (though, like others, he attributes it to former Obama Chief of Staff Rahm Emanuel). The challenges of 2014 offered him a chance to shake up his company. But one of the first opportunities involved shedding his disdain for traditional advertising.
Mackey hates phony, hard-sell marketing. Meetings with various ad agencies over the years typically went badly, after they opened their pitches with research suggesting Whole Foods should start selling mass-produced brands such as Diet Coke and Oreos. Robb changed Mackey's mind by bringing in the New York branding agency Partners & Spade, which has done lauded work for such companies as Warby Parker and Shinola, a luxury watchmaker with a side mission of reinvigorating Detroit's business community. Fresh off the May earnings debacle, Robb invited the firm's co-founder, Anthony Sperduti, to present to the e-team.
Mackey admits he had "a bad attitude" going into that meeting, but he says Sperduti impressed him by declaring off the bat that he hadn't done any market research and that he prefers to tailor messages from instinct and his personal knowledge of brands. "Most CEOs might view it as a negative," Sperduti says.
Partners & Spade then spent a few months collaborating closely with the e-team, whose members expressed an unusual interest in controlling just about every sentence in the ads. Mackey and his colleagues ruled out specific words such as "humane," so as not to antagonize animal rights activists who criticize the company for selling any meat at all. And they insisted that actors not be used—everyone in the spots had to be an actual employee or supplier. Much of this feedback came from Mackey himself. "Usually the founder or CEO at that level does not want to talk about and pressure-test every word and nuance of phrase," Sperduti says. The TV spots, which started running nationally in October, have sweating farmers and setting suns and voice-overs that say things like, "We want to know where our food comes from. We care what happens to it along the way."
The "we're not Whole Paycheck" message will be more direct in the stores. The price markdowns of fruits and vegetables, advertised prominently in the Austin flagship, could expand to other cities this year, according to the company. Whole Foods has also unveiled its "responsibly grown" produce-rating system for fruit, vegetables, and flowers, which mirrors the decade-old standards it uses to rank meat and poultry at its butcher counter. Farmers whose products get the "best" label, for example, must prohibit the use of a dozen major pesticides. (Suppliers voluntarily submit information through an internal website, and an outside auditor can follow up.) Mackey also says the company has begun to prepare standards for such products as eggs and shellfish.
"We have the ability to compete on price, and we will do that," Robb says. "But this is not just a race to the bottom. We are also going to start a new race to the top, with better-quality food, higher standards, richer experiences for our customers, and new levels of transparency and accountability in the marketplace."
Getting its loyalty program off the ground, meanwhile, required another compromise by Mackey. The company tried a loyalty program in the late 1990s but dropped it after Mackey sensed customers' growing resentment that discounts were offered only to cardholders. The new program, which is being tested in about a dozen stores in the Northeast, works primarily as a smartphone app. In addition to some discounts, there are rewards such as cooking classes from an in-store chef.
Robb has also spearheaded a partnership with San Francisco-based Instacart, which is to grocery delivery as Uber is to taxis. Customers order online, and a network of contract workers picks up the items and delivers the goods within a few hours. Companies such as Webvan and HomeGrocer tried food delivery and failed during the first dot-com boom. Now Amazon.com, Wal-Mart, and others believe consumers are comfortable enough with e-commerce to make it feasible. (Mackey predicts the capital-intensive AmazonFresh foray into grocery delivery will be "Amazon's Waterloo.") Whole Foods' Instacart program is up and running in 15 cities. Mackey says he's delighted with the results so far and professes not to be worried about the competition.
 
 
Analysts and investors seem to like Whole Foods' initiatives. The stock is up almost 6 percent for January, and in a recent note to investors, brokerage firm Sterne Agee upgraded its rating on the company from neutral to buy and said that management was finally "back to playing offense." Others want to agree but aren't sold yet.
"Whole Foods has unbelievable brand equity, a supply chain that is somewhat exclusive to them, and very strong customer loyalty," says Karen Short, an analyst at Deutsche Bank Securities who has a neutral rating on the stock. "They've dug themselves out of a hole once before. I hope they can do it again."
Mackey's vowed to be less of a distraction. He's said global warming is overhyped and isn't necessarily bad for the planet, ranted against labor unions, and compared Obamacare to fascism (he later apologized). These views are at odds with the political leanings of his customers, and when he shoots his mouth off, the company's numbers tend to go south. During a three-month tour in 2013 to promote his book Conscious Capitalism, which argues that businesses should have a higher calling than just making profits, Whole Foods stock declined almost 5 percent. That could be coincidence. Either way, Mackey is no longer "an unrepentant foot-in-mouther," as the New Yorker once described him, but has learned that the less he holds forth on politics, religion, sex, or climate change, the better. "I have found that there are some things Americans just can't talk about," he says. "People are so polarized on these issues. I don't want Whole Foods attacked by flash mobs because I mentioned something to Bloomberg Businessweek."

Robb says Mackey has been properly humbled: "John has realized he needs to cork his own politics. He's been spanked enough."
Still, Mackey can't quite help himself, particularly when the topic turns to health care. As Whole Foods tries to match prices with the new competition, it needs to reduce its own costs, and a big part of that is health insurance for his 85,000-plus employees. Just talking about it gets him riled. He says Obamacare is just a sneaky way to replace employer-run health care with a single-payer system and worries that the bad dietary habits underlying poor health in the U.S. are largely ignored by the health-care system. "Americans all insist they eat well, but if you look at what they're eating, they're kidding themselves," he says. "Americans eat a terrible diet. It's nonsense. Of course they can eat better. They just choose not to."
One idea he's working on is a sort of weight loss and nutrition camp for employees and customers. It's based on a program called Total Health Immersion, a weeklong clinic that Whole Foods employees can attend for free, where they undergo medically supervised testing, group discussions with nutritionists, and cooking classes. Mackey wants Whole Foods to offer Total Health Immersion to customers as a healthful weekend getaway. He says he's negotiating to buy a property in Austin, and "if it works here, there's no reason we can't do it in every major city in the U.S." He sees a huge market need, as he once did for organic foods. "Americans are sick of being sick," he says. "They don't know what to do, and there's so much misinformation, which is why we started Whole Foods in the first place."
Mackey's second idea is even more grandiose: a Whole Foods medical clinic. He says he was inspired by Rosen Care, an employer health-care program run by Rosen Hotels & Resorts in Orlando, which offers employees an on-site company-owned medical facility. The clinic has a staff of 38 health-care practitioners serving 5,300 employees and places an emphasis on nutrition and preventive medicine, which company founder Harris Rosen says has reduced his per-employee health-care costs to about half the national average. Mackey met Rosen at a health-care conference last summer in Las Vegas, then traveled to Florida to tour the clinic. He's considering rolling out Whole Foods clinics to employees—and even, perhaps, to customers.
"Health care is so broken in America," Mackey says. "If we allow markets to work, if we allow entrepreneurs to get in here and do things like I'm talking about doing, we will pretty much solve the health-care problem in a generation."
A PR representative hastens to add that Mackey's medical center and weight-loss retreat plans are nothing more than "brainstorming," but it sure doesn't seem that way. Mackey holds forth on the state of American health with the same righteousness that he flashed while hobbling through his Austin flagship and declaiming the virtues of wild-caught salmon (the only thing he misses eating since going vegan).
"'No one else does this but us," he says as he gets ready to dash off to another meeting. "But everyone else will probably copy us. They've been doing it for 10 years."
Before it's here, it's on the Bloomberg Terminal.
LEARN MORE