How Long Can Hillary Clinton Wait to Announce?
Here's how a later timeline compares to past announcements from successful candidates.
By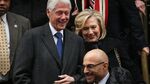 With few other presidential prospects emerging in her party, Hillary Clinton is considering waiting until July to announce her candidacy, Politico reported Thursday, citing top Democrats.
That would put her way behind her timeline for the 2008 election. She announced that candidacy in January 2007 with the words "I'm in" on her website. 
If she does wait until July this time, she would be in good company. As Bloomberg Politics found last fall, "since '72, winners have declared an average 492 days before the general election. In years where no incumbent was running, the winner announced an average 511 days before Election Day. This time around, that's June 12."

Graphic: Bloomberg Politics
Of course, that's only an average, boosted by the early announcements of successful candidates Barack Obama and Jimmy Carter. In the 2008 cycle, Obama announced more than 600 days before the election, and Carter announced even earlier, not long after the 1974 midterms. 
Bill Clinton and George H.W. Bush both stayed on the shorter side of the average, announcing about 400 days before the election, while George W. Bush announced closer to the 492-day mark.