Bernie Sanders Says Wall Street is His Target, Not Hillary Clinton
The Vermont senator has decidedly mixed feelings about making a White House run.
By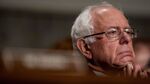 Bernie Sanders says he wants to run for president. He really does. But that doesn't mean he will.
"My God, if you run for president, you're going to need a gazillion dollars," he said Thursday at a taping of C-SPAN's Newsmakers, airing this weekend. "You're taking on the Koch brothers, who have an endless sum of money."
Those obstacles—along with Hillary Clinton, a dozen Republicans and the American public's wariness of a self-described socialist—are in the way of the independent senator's bid to become the 45th commander in chief.
Like any good senator, Sanders' description of an ideal presidential candidate sounds just like himself.
"We're going to need bold leadership," said the Vermonter, first elected to the House in 1990 and the Senate in 2006. "We're going to need people prepared to take on, frankly, the billionaire class, to prevent this country moving in the direction of oligarchy."
Sanders said he'll be in New Hampshire this weekend and then Iowa in a few weeks, trying to figure out if he can build a coalition to make climate change a priority, slap a financial transactions tax on Wall Street.
"It's something that I would like to do, but I can't do it—won't do it—unless we do it well," he said. "All I know is if I run, I'm not running against Hillary Clinton. I'm running against wall street and their greed that has helped destroy this economy. I am running against 'Citizens United.' I am running against those people who deny climate change."