The New Air Force One Is Coming, But Not Soon Enough for Obama
Boeing has landed the contract to manufacture the next generation of the presidential airplane.
By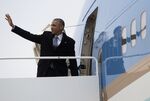 It's one of the most recognizable symbols of American power, a gleaming fixture in numerous Hollywood political action films, and, when it comes right down to it, a darn cool ride.
But soon, Air Force One will be getting a makeover. That's not exactly surprising given that the two Boeing 747-200 aircraft that most often transport President Barack Obama (his plane is always called Air Force One) are nearing a 30-year planned service life in 2017. My colleague Tony Capaccio reported Wednesday that Boeing is getting the contract for three modified 747-8 passenger planes, after Air Force Secretary Deborah James signed a document justifying Boeing's spot as the sole source contractor. Specialized equipment for the new aircraft will go out for bids. Capaccio also says the Air Force is budgeting $1.6 billion through 2019 on research for that presidential aircraft replacement program.
Boeing is clearly proud of its special relationship to the presidential aircraft; it has a web page dedicated to AF1 trivia, including how much floor space is in the "flying Oval Office" (4,000 square feet) and the aircraft's specialized capabilities for hospital care and aerial refueling. 
The bad news for Obama? The new AF1s won't be delivered until two years after he leaves office, and then have another five years of testing before entering service in 2023. That means Obama's successor would need to win a second term in office to try out the next generation of Air Force One.