Munger's Daily Journal Cites Material Weakness Over Controls
Noah Buhayar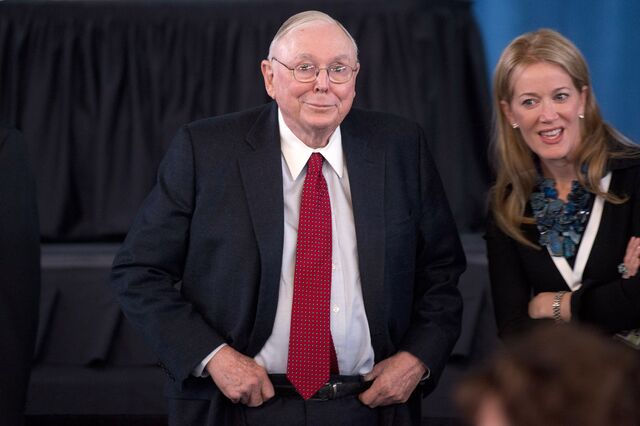 Daily Journal Corp., the publisher that counts billionaire Charles Munger as chairman, said it found "material weaknesses" in its controls over financial reporting and restated results.
In filings Wednesday, the Los Angeles-based company said it accrued a tax liability related to an acquisition and erased almost all the the previously reported $2.84 million in profit for the three months ended June 30. The publisher said it lacks in-house expertise to apply accounting rules for non-routine transactions.
"We believe our overall internal-control environment is sufficient for a company of our size," Daily Journal said in one of the filings. "However, the existence of material weaknesses means that there is a reasonable possibility that a material misstatement of our financial statements will not be prevented or detected on a timely basis."
Investors follow Daily Journal because of Munger's involvement. The 91-year-old billionaire is Warren Buffett's longtime business partner and the vice chairman at Berkshire Hathaway Inc. The publisher's annual meeting in September drew a standing-room-only crowd that came to listen to Munger answer questions for two hours.
Daily Journal was little changed at $188.60 Wednesday in New York and has fallen 28 percent since year-end. The publisher more than quadrupled in the three years through 2014 amid gains in its equity portfolio.
Stock Purchases
Munger and Daily Journal Vice Chairman J.P. Guerin invested in stocks, including Wells Fargo & Co., during the depths of the financial crisis. The move helped Daily Journal amass a paper gain of more than $120 million as of Sept. 30.
In addition to publishing legal newspapers and California Lawyer magazine, the company has purchased a number of technology businesses. Tu To, a Daily Journal spokeswoman, declined to say which acquisition caused the company to accrue the tax liability.
Last July, the publisher hired BDO USA LLP as its auditor to replace Ernst & Young LLP, which had cited flaws in the accounting for acquisitions and deferred tax provisions. Munger said at the September meeting that the Ernst & Young opinion was misguided.
"We obviously had an audit from hell," he said. "They were like the doctor who wanted to cure the nosebleed by fishing around in the groin."
Net income at Daily Journal fell to $631,000 for the 12 months ended Sept. 30, compared with $3.78 million a year earlier, the company said in one of the filings. The value of its equity portfolio surged 28 percent to $165.7 million during the period.
Before it's here, it's on the Bloomberg Terminal.
LEARN MORE