Hillary Clinton Willing to Testify, Again, on Benghazi
The ranking Democrat on the House Select Committee says the former Secretary of State will testify if asked.
By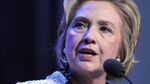 Here we go again?
Former Secretary of State Hillary Clinton is prepared to testify again before Congress on the events surrounding the 2012 terrorist attack in Benghazi, Libya, that killed four Americans, including Ambassador Christopher Stevens, according to Representative Elijah Cummings, the ranking Democrat on the House Select Committee.
"She said ... I'll do it, period," Cummings said following Tuesday's hearing, the Hill reported. 
The committee chairman, South Carolina Republican Representative Trey Gowdy, has called Clinton "a witness we would like to talk to," but no date has been has been discussed for bringing the Democratic presidential frontrunner in to face more questions on the attack that occurred while she was top diplomat.
A nearly two-year investigation by the House Intelligence Committee concluded that "there was no intelligence failure prior to the attacks" in Benghazi.
Clinton's testimony on the Sept. 11, 2012, Benghazi attacks before the Senate Foreign Relations in January of 2013 yielded several highly charged moments, including the following exchange over the motivation behind the killings.  
Democrats in the House have accused Republicans of prolonging the hearings as a way to damage Clinton's chances at becoming president, while Republicans say there is evidence that shows that the former secretary's staffers have covered up documents to protect their former boss. 
It remains unclear whether Clinton will indeed answer questions on Capitol Hill, but the prospect of her appearance before the committee would certainly make for high political drama. 
"If the committee wants her to come, she's willing to come," Cummings said. 
CORRECTION: An earlier version of this story misspelled Ambassador Christopher Stevens' last name.