Cars
Elba on Bond Role: 'Daniel Craig Is Doing a Great Job'
Actor Idris Elba, focusing on life as a DJ, brushes off 007 rumors
By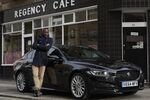 Idris Elba drives fast, loves British cars, and rocks a well-cut suit.
That doesn't mean he will play James Bond any time soon.
"It's really just a rumor—and it's not even my rumor!" he says via phone from Germany. He has called me, an auto journalist, because the luxury brand Jaguar recently hired him to drive from London to Berlin in its new XE diesel sedan, the one that gets 75 miles per gallon. He drove it to DJ a Jaguar-sponsored party the night of his arrival in Berlin.
It was a well-timed publicity stunt. While it is true that Elba has long followed car culture—his father worked for years at Ford, and Land Rovers and a Jaguar XJR are his current cars of choice—the drive comes right after revelations from the Sony hack revealed that Elba was being considered for the title role in the next 007 flick.
For the moment, Elba says he is focusing on his life as a DJ.
"I appreciate you saying that I'd be a good James Bond, but Daniel Craig is doing a great job with it right now," he says. "I love working with music, making people dance."
In fact, Elba has worked in music for years, playing under the name Driis. He co-produced and performed on the intro to Jay-Z's 2007 album American Gangster, and he earned a Billboard Music Awards nomination for his own EP, High Class Problems Vol. 1.
"I mostly taught myself to DJ, but I did used to lift the speaker boxes for my uncle when he would do weddings," Elba says. "He was the first to really turn me on to it."
These days, he plays chill and deep-house tracks mixed with pop and what he calls "party classics." (Imagine Chromeo, Second City, and Chocolate Puma mixed with James Brown and Aluna George.) He also plays new work from such little-known (outside the U.K.) artists as Gorgon City and My Nu Leng.
Elba is enthusiastic. Last night, as part of a stunt, he drove the new XE right onto the dance floor. If you ask him, it was practically a normal day on the road.
"I'm a bit of a speed demon," he admits, laughing. "But I am a safe driver! I haven't been in any accidents."
Before it's here, it's on the Bloomberg Terminal.
LEARN MORE