economics
U.S. Stocks Plunge Nearly Three Hundred Points
Lu Wang, Joseph Ciolli and Callie Bost
U.S. Stocks Plunge Nearly Three Hundred Points
Lu Wang, Joseph Ciolli and Callie Bost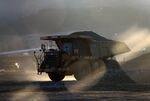 U.S. stocks tumbled, with the Nasdaq 100 Index falling the most since April, as a drop in durable-goods orders and disappointing results from Caterpillar Inc. to Microsoft Corp. heightened concern about the economy's strength.
Technology shares in the Standard & Poor's 500 Index plunged 3.3 percent for the biggest drop since November 2011. Microsoft lost 9.3 percent, the most in 18 months, as software-license sales to businesses were below forecasts. Caterpillar plunged 7.2 percent after forecasting 2015 results that trailed estimates as plunging oil prices signal lower demand from energy companies. Procter & Gamble Co. slid 3.5 percent as a surging U.S. dollar cut into its earnings.
Apple Inc. jumped more than 6 percent in after-market trading after reporting revenue that topped estimates. Yahoo! Inc. surged 6 percent in late trading after announcing a tax-free spinoff of its stake in Alibaba Group Holding Ltd.
"Currency headwinds, as well as evidence of a continual deceleration of global growth, is having a major impacts on quarterly results," Chad Morganlander, a money manager at St. Louis-based Stifel, Nicolaus & Co., which oversees about $160 billion, said in a phone interview. "Coupled with that, durable goods orders were somewhat disappointing, which scotches any optimism for today's trading session."
The Standard & Poor's 500 Index slipped 1.3 percent to 2,029.55 at 4 p.m. in New York, below its average price for the past 50 days. The Dow Jones Industrial Average declined 291.49 points, or 1.7 percent, to 17,387.21, after losing almost 400 points earlier in the day. The Nasdaq 100 Index tumbled 2.6 percent for the biggest drop since April.
About 6.5 billion shares changed hands on U.S. exchanges,
3.6 percent below the three-month average, as exchanges opened for a full day despite a snow storm that shut down travel around New York City overnight and during part of the morning.
Exchanges Open
A travel ban came to an end on Tuesday morning after the storm brought less snow than had been forecast. The National Weather Service downgraded its assessment to a winter storm from a blizzard. The last time snow prompted the New York Stock Exchange to shut down was in 1996, according to the exchange's website.
The S&P 500 is trading at 17.1 times the projected earnings of its members, about 16 percent above its 10-year average. The multiple reached a five-year high at the end of last year, according to data compiled by Bloomberg. The measure rallied 1.6 percent last week after the European Central Bank announced a
1.1 trillion-euro ($1.2 trillion) bond-buying plan.
Yahoo! Inc. and Apple Inc. are among 27 companies releasing quarterly results on Tuesday.
Of the S&P 500 members that have reported profit so far, 75 percent have exceeded projections that analysts have lowered since late last year. Analysts predict profit at S&P 500 companies climbed 1.1 percent in the final three months of 2014, down from an October estimate of 8.5 percent.
Crude Weakness
"Everybody is aware of weakness in crude oil, but you're seeing spillover into large, industrial companies like Caterpillar and that may be giving people pause," Peter Jankovskis, who helps oversee $1.9 billion as co-chief investment officer of Lisle, Illinois-based OakBrook Investments LLC., said in a phone interview. "And certainly Microsoft is a bellwether of the tech industry, and that's another cause that's having people pulling back."
Multinational corporations flooded the market with fourth-quarter results as Federal Reserve officials gather in Washington for a two-day policy meeting. The central bank is trying to determine whether declining oil prices, a slowdown in European growth and any fallout from the Greek elections will threaten the U.S. recovery as it considers raising interest rates. Chair Janet Yellen told reporters after the last meeting not to expect higher borrowing costs before the end of April.
Data Watch
Orders for business equipment unexpectedly fell in December for a fourth month, signaling a global growth slowdown is weighing on American companies. Bookings for non-military capital goods excluding aircraft dropped 0.6 percent for a second month, data from the Commerce Department showed. Demand for all durable goods -- items meant to last at least three years -- declined 3.4 percent, the worst performance since August.
Slackening demand from Europe and some emerging markets is probably weighing on orders, making companies less willing to invest in new equipment.
Purchases of new homes in the U.S. increased 12 percent in December to a 481,000 annualized pace from a 431,000 rate in the prior month, figures from the Commerce Department showed Tuesday in Washington. Consumer confidence in the U.S. increased this month as declining unemployment and lower fuel costs lifted Americans' outlooks.
Profit Cuts
The Chicago Board Options Exchange Volatility Index, known as the VIX, jumped 14 percent to 17.74. The gauge is down 7.6 percent for the year.
Nine of 10 main industries in the S&P 500 declined. Consumer staples and industrials shares lost more than 1.2 percent.
Technology companies in the S&P 500 dropped 3.3 percent for their biggest one-day loss since Nov. 9, 2011. Intel Corp. and Hewlett-Packard Co. sank more than 3.4 percent.
Microsoft plunged 9.3 percent, the most since July 2013. Revenue slumped in China and Japan and a stronger U.S. dollar curbed sales of business-software licenses. Unearned revenue, a measure of future sales, missed analysts' estimates.
Caterpillar lost 7.1 percent for its biggest drop since August 2011. The world's largest mining and construction equipment maker forecast lower-than-estimated earnings and revenue for 2015.
Crude's slump of more than 40 percent in the past six months is the latest headwind for Caterpillar, which had already seen declining orders from the mining industry for its signature yellow machines.
Late Earnings
DuPont Co. fell 1.3 percent. The chemical maker posted an unexpected drop in fourth-quarter sales and forecast 2015 earnings below analysts' estimates as a stronger dollar cuts into its profit.
P&G slid 3.5 percent, the most since April 2013. The world's biggest consumer-products maker reported profit that missed analysts' estimates in the quarter ended Dec. 31 after what Chief Executive Officer A.G. Lafley called "unprecedented" foreign-exchange rate fluctuations reduced sales by 5 percentage points.
Apple rallied in late trading after falling 3.5 percent during the regular session. Sales of iPhones during the quarter ended Dec. 27 rose 46 percent to 74.5 million units, topping analysts' average estimate of 64.9 million, according to a company statement on Tuesday.
That helped push Apple's fiscal first-quarter profit to a record $18 billion, or $3.06 a share, on sales of $74.6 billion. Analysts had predicted profit of $2.60 a share, and revenue of $67.5 billion.
Yahoo advanced in extended trading after sliding 2.9 percent during the day. The Web company announced a tax-free spinoff of its entire stake in Alibaba Group Holding Ltd., seeking to maximize its return of cash to shareholders and minimize taxes on the sale.
The deal with the Chinese e-commerce company will put Yahoo's Alibaba shares into a newly registered company called SpinCo, which will own all of Yahoo's remaining 384 million shares of Alibaba valued at $40 billion, the Sunnyvale, California-based company said in a statement Tuesday. SpinCo will be distributed to existing Yahoo shareholders as a separate public company.