Rwanda Tribunal Taught Loretta Lynch Real Power of Prosecutors
Del Quentin Wilber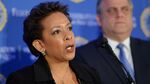 Loretta Lynch drove deep into the hills of Rwanda and waited for the witnesses to arrive, one after the other, many still bearing the scars of genocide.
As a veteran federal prosecutor, Lynch had seen her share of human depravity -– murderers, child pornographers, gang leaders, abusive cops. But nothing had prepared her for that summer of 2005 when she volunteered as a war crimes prosecutor and spent her days in a stuffy van interviewing nervous and skeptical survivors of one of the world's worst atrocities.
A skilled but empathetic interrogator, she broke down their harrowing stories in ways that made them easier to relive, in what co-workers saw as a rare ability to connect with others.
The work for an international tribunal, which prosecuted war crimes stemming from the 1994 Rwandan genocide, left an indelible impression on Lynch, who is President Barack Obama's nominee to be the next U.S. attorney general.
Though those experiences in Rwanda aren't likely to be a focus of her Senate confirmation hearings this week, Lynch's time in Africa offers a glimpse of her priorities and world view. Modest successes there reaffirmed her faith in international legal systems and the need to protect the integrity of the courts, according to colleagues and friends.
And it instilled something deeper: an appreciation that prosecutors can dramatically affect lives and even societies.
"How do you bring justice to bear in that place?" Lynch, the U.S. attorney in Brooklyn, asked a New York City audience last year. "One case, one witness at a time. What do you use? You use the law, not because the law is perfect but because it is the instrument through which we forge justice."
Training Prosecutors
Lynch, 55, found herself in Rwanda while between jobs. A Harvard Law graduate, she had just finished her first tour as U.S. attorney in 2001 when she was approached by international lawyers. They were looking for help in training prosecutors on the International Criminal Tribunal for Rwanda, the United Nations body handling the prosecution of crimes stemming from the mass slaughter by extremist Hutu of the Tutsi minority as well as of Hutu who opposed the killings.
About 800,000 people were killed over 100 days, a staggering toll that Lynch described this way in one speech: "Imagine the World Trade Center attacks of 9/11; now imagine that loss of life occurring again, and again and again, every day, three times a day, for three months."
Lynch eagerly joined the volunteer effort, in part, because she had been too busy in the mid-1990s to accompany a detail of Justice Department attorneys participating in such prosecutions.
"I ended up where I wanted to be years ago," she said in a speech last year.
First Trip
Within a few months, she was on her first trip to Tanzania, where the court is based, training prosecutors on how to present evidence, cross-examine witnesses and prepare for trial.
It wasn't easy work. The court was a mishmash of different legal systems, and various international prosecutors were skeptical that they could learn anything from Lynch and the others. But she won them over, and returned several more times over the next few years to conduct the classes, said Frederick Davis, an American lawyer who ran the program.
Intuitive Teacher
"She really knows her stuff -– that was very obvious," said Davis in a telephone interview from his office in Paris. "She had this intuitive way of teaching. She could get the person to go to square one in a way that didn't cut them down or make them feel put upon."
By 2005, the tribunal had become increasingly concerned that witnesses were being threatened or bribed to change their stories.
Stephen Rapp, the tribunal's lead prosecutor who had attended the training sessions, picked up the phone and called for help from the first person who came to mind: Lynch, then a partner in the New York office of Hogan & Hartson.
She agreed and was soon tackling Rapp's difficult assignment: investigating a recanting witness. The hope was that such a high-profile effort would discourage witness-tampering and bolster the integrity of the tribunals, said Rapp, a U.S. ambassador-at-large in the Office of Global Criminal Justice.
Culture Minister
The witness, identified only by his initials GAA, had provided key testimony in the trial of Jean de Dieu Kamuhanda, the former Rwandan minister of culture and education. Kamuhanda was convicted of participating in the genocide and sentenced to life in prison.
However, during an appeals hearing in 2007, GAA told the judges that he had lied when describing Kamuhanda's presence and actions during a massacre.
Over the course of several months in 2005, Lynch and an assistant -- another former federal prosecutor, Vincent Cohen -- flew to Tanzania and then hopped on a small propeller plane for the trip to Rwanda.
Their work was delicate because they had to protect witnesses' identities. Once in Rwanda, Cohen said, they drove straight into the hills and sat in a poorly ventilated SUV, waiting for investigators to bring them people to interview.
Lynch and Cohen questioned witnesses through an interpreter, a process that could take hours, and was repeated over and over again, from sunrise to sunset. The witnesses were often victims of attacks; some were missing limbs, and others bore the deep scars of machetes. A decade later, many remained emotionally traumatized.
Darkest Days
"She was asking these people to talk about the most horrifying and darkest days of their entire lives," said Cohen, who has since returned to U.S. government service and is now the No. 2 prosecutor in the U.S. Attorney's Office in Washington. "These folks had their entire families decimated. After we spoke to a witness, we would take a minute to decompress before calling in the next one."
Cohen described how a young woman told Lynch that when she was 12, rampaging Hutus attacked her village. When her parents fell in the slaughter, the girl dove under them and held her breath, with the Hutus just inches away. When she looked up, she told Lynch she was staring into her dead mother's eyes.
"Loretta is taking her time, giving the girl tissues, asking compassionate questions," Cohen said, describing the interview. "She takes a few breaks. She is trying to break it all down into smaller parts so she doesn't have to do the whole long narrative. She had this amazing ability to connect with this person even through a different language."
Admitting Lies
In all, Lynch and Cohen interviewed several dozen witnesses, helping uncover the evidence that GAA's recantation had been a false one. GAA later pleaded guilty, admitting he lied to the appeals court after being given money and meals and being promised a hefty financial reward by an investigator on Kamuhanda's defense team. GAA was sentenced in 2007 to nine months in prison.
Cohen said it was clear that their work in Rwanda had a profound effect on Lynch. "It was some of the best and most important work of her career," he said. "This was some of the most fulfilling legal work I have ever done, and some of the most taxing as well."
Lynch has also spoken powerfully about her time in Rwanda, and it is one of the few personal anecdotes she included in her lengthy Senate questionnaire. In speeches, she spoke of her initial skepticism about what she was doing, saying, "The very concept of an international tribunal, a permanent body to deal with those who let slip the dogs of war onto their own people, seemed at times like an impossible dream."
But over time, Lynch said, the courts helped prove that justice could be served and provide a small measure of relief to victims and their families.
Describing her time on the tribunal as "the great privilege of my career," Lynch said she interviewed "people who had seen their entire families cut down by their side, who had hidden under the piles of the dead in order to live through the massacres, who still felt the pain of the machete blows to their head, and yet who trusted me and others with their stories."
"It was an act of faith," she added, "unlike anything I've seen before."