Apple's Chinese New Year Sales May Bring a Second Holiday Boost
Tim Higgins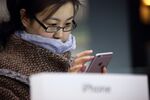 Apple Inc., which posted 70 percent revenue growth in China last quarter, may get another boost from the shopping season tied to the Chinese New Year in February.
The holiday, which falls on Feb. 19 this year, is regarded as the most important one in China and is traditionally celebrated with gifts, especially luxury goods.
"This quarter is a heavy gifting quarter because of Chinese New Year so it's in essence the Christmas for the rest of the world," said Ben Bajarin, an analyst at Creative Strategies Inc. The iPhone in "China is easily going to do better than the U.S. this quarter," he said.
Some analysts had predicted Apple would sell more iPhones in China than in the U.S. in the quarter that ended in December. That hasn't happened yet, even though iPhone unit sales doubled in mainland China for that period, Chief Financial Officer Luca Maestri said Tuesday in an interview. Shipments of the smartphone rose 44 percent in the U.S. in the quarter, he said.
"We have a lot of momentum in China," Maestri said. "Chinese New Year is a very important part of the cycle in China, and so we hope to take advantage of that."
The company began selling its biggest smartphones yet, the iPhone 6 and 6 Plus, in China in October. Chief Executive Officer Tim Cook, who has said he expects the country to eventually overtake the U.S. to become Apple's largest market, announced plans that same month to boost the number of retail stores there to about 40 from 15 in the coming years.
'Like Crazy'
"When I look at China, I see an enormous market where there are more people graduating into the middle class than any nation on earth in history, and just an incredible market where people want the latest technology and products that we're providing," Cook told analysts on an October conference call. "And so we're investing like crazy in the market."
Apple struck a deal in 2013 to sell the iPhone through China Mobile Ltd., the world's largest wireless carrier by users, and has been selling the smartphone through China Unicom (Hong Kong) Ltd. since 2009 and China Telecom Corp. since 2012.
The company plans to open five new retail locations, including in four cities without Apple stores, before the Chinese New Year, Angela Ahrendts, senior vice president of retail and online stores, told Xinhua this month.
Profit Increase
Apple's strong results in China helped boost profit by 38 percent in the December quarter, the company reported Tuesday. IPhone unit sales climbed 46 percent to 74.5 million, the Cupertino, California-based company said in a statement.
China still has a way to go before it's the company's largest region by sales. Revenue from greater China rose to $16.1 billion in the fiscal first quarter, compared with $9.5 billion a year earlier. China ranked behind the Americas and Europe in total revenue. Apple has about 265 retail stores in the U.S. with 30,000 employees, according to the company's website.
Investor enthusiasm for Cook's new product lineup, which he began unveiling in September with the larger-screened iPhones, helped boost Apple's shares to record highs, sending the company's market value to more than $700 billion for a time last year. The jumbo iPhone 6 Plus was seen as being especially important for customers in Asia, though it's still priced higher than phones from local device makers.
"Chinese New Year on Feb. 19 should help 6 Plus mix as will a record number of Android switchers," Steven Milunovich, an analyst at UBS, said Wednesday in a note to investors.
Before it's here, it's on the Bloomberg Terminal.
LEARN MORE