Sara Taylor Fagen and the Scandal Time Forgot
The invulnerability of Bush scandal figures.
By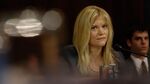 Halfway down in Peter Hamby's (as usual) excellent report on the moves Jeb Bush is making, we find this chunk of news jerky:
[Sally] Bradshaw, several Republicans said, is likely to remain in a senior adviser role. Sara Taylor Fagen, an Iowa native and former political director for George W. Bush, has been frequently mentioned as a likely campaign manager. Fagen did not respond to a request for comment.
If that happens, it will be the final, hard slamming of the door on a scandal that Democrats investigated through much of 2007. That year, after they took back Congress—and with it, subpoena power—Democrats looked into the process of "voter caging," and whether the 2004 Republican campaigns flouted the law by sending mail to voters' addresses for the purpose of challenging their ballots. (If the mail bounced, but people showed up to vote, there would be a basis for asking if they were who they said they were.) The questions were raised by journalist Greg Palast, who obtained e-mails accidentally sent by the RNC to a fake White House e-mail address owned by satirists. At the same time, Democrats were investigating whether the Bush administration had acted politically in the firings of some U.S. attorneys (they serve at the pleasure of the president), sacking them because they wouldn't investigate voter fraud claims.
Sara Taylor, who'd been a top aide to Karl Rove, held back on testifying about this until she absolutely couldn't resist the Senate any longer. Tim Griffin, the e-mail sender who'd also been nominated to replace one of the fired U.S. attorneys in Arkansas, felt hounded out of the job—"railroaded," as he put it.
Three years later, Griffin was elected to Congress. Last year, he left Congress to run for lieutenant governor of Arkansas and won. And now Taylor may win a plum position on the most establishment-friendly Republican presidential campaign. To find another example of scandal figures bouncing back so confidently, you'd have to, well, turn on Fox News.