Monday Morning Find: Longines Gilt Dial Tre Tacche Calatrava
By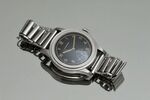 After a week fixated on the latest in complicated high watchmaking at the SIHH show, it's time to go back to basics. Patek Philippe might now own the name "Calatrava" but it's used among vintage watch collectors to refer to any small, simple time-only watch from the mid-20th century. This simple black Longines Calatrava from the 1940s might look unassuming, and that's exactly what makes it so elegant.
When you start looking at watches from the 1940s, there are a few big things you need to keep in mind. Back then, watches were smaller. Much smaller. At 35mm, this would have been considered an oversized model when it first came out and is much rarer than the smaller versions. The sort of orangish tint to the hands might look like corrosion, but it's actually the natural aged color of the radium used to make them light up. This was way before synthetic luminous material and even before the safer tritium.

This Calatrava also has what's called a "gilt dial," which doesn't mean the markings are gold, sorry. It means that the brass plate has the black finish applied through a galvanic process, and the markings are the raw brass showing through. The black layer is extremely thin but rich in color, and these dials are much harder to fake or retouch without giving it away. Other than a little corrosion around the 3, the dial looks to be in great shape for its age.

Finally there are those two funny words in the watch's name: Tre Tacche. That's Italian for "three notches," which describes the indentations on the caseback. The '40s were still the early days of water-resistant watches and these allowed a watchmaker to get the caseback on extra tight with the use of a special tool. Italian collectors first began using the name Tre Tacche to describe these water-resistant Calatravas and it caught on quickly (as do many things started by Italian watch collectors). If not entirely unpolished, the steel case is in pretty crisp condition with the numbers still visible on the lugs and caseback.

To finish things off, this watch comes on a Gay Frères bamboo-style bracelet. This wasn't original to the watch, but it is period correct and looks great with it. Gay Frères made bracelets for all the best brands, and one like this is worth more than some lesser watches all on its own. If you really want to complete the "I just spent the weekend at my summer cottage on Lake Como" look, it's pretty perfect.  
This Longines Tre Tacche Calatrava is available from Cosimo-Online for 6,200 euros (about $6,962).
Before it's here, it's on the Bloomberg Terminal.
LEARN MORE