Rock-Tenn to Buy MeadWestvaco to Create Packaging Giant
Christopher Donville and Tom Lavell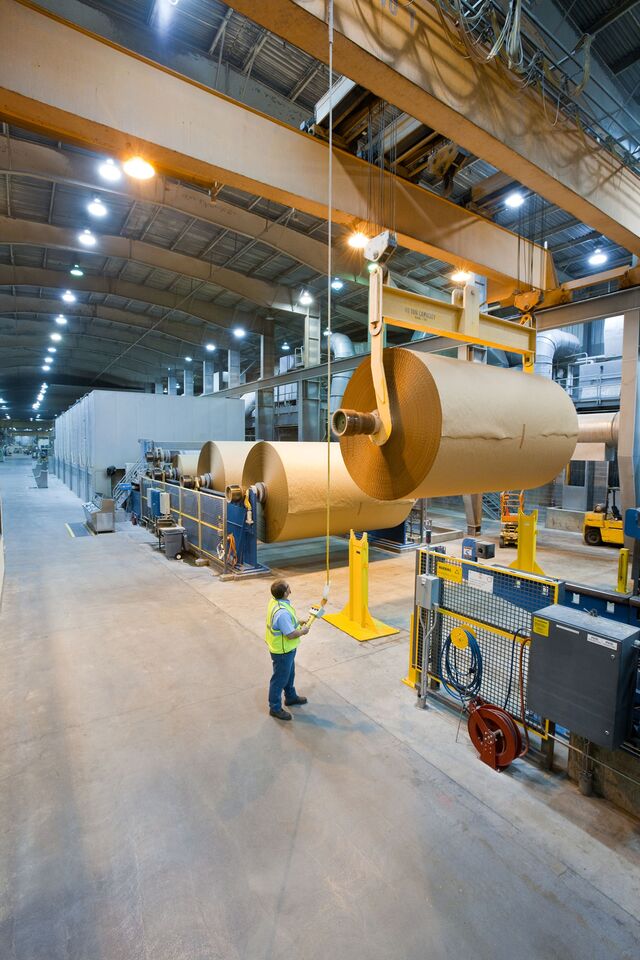 Rock-Tenn Co. agreed to acquire U.S. rival MeadWestvaco Corp. in a deal valued at about $9.2 billion to create the world's second-largest packaging company.
The cash-and-stock transaction will give shareholders of Richmond, Virginia-based MeadWestvaco 50.1 percent of the new company and investors in Rock-Tenn will hold the rest, the companies said Monday in a joint statement.
The deal, the largest in the paper industry in a decade, comes seven months after activist investor Starboard Value LP said it took a stake in MeadWestvaco. Starboard criticized the company for what it described as a conglomerate structure and urged it to find ways to improve its performance. MeadWestvaco outlined plans earlier this month to spin off its specialty-chemical unit, a transaction that will still proceed.
The combination of Rock-Tenn and MeadWestvaco is forecast to cut $300 million of costs annually. The new company will have 42,000 employees in 30 countries across the Americas, Europe and Asia. The combination will create extra financial flexibility, the companies said in a slide presentation. It will also take advantage of MeadWestvaco's pension surplus.
"We'll have the financial strength to grow beyond our current footprint by investing in new assets, including acquisitions that improve our business," Steve Voorhees, Rock-Tenn's chief executive officer, said on a conference call.
MeadWestvaco holders will get 0.78 of a share of the newly combined company for each share held. Rock-Tenn shareholders have a choice of receiving either 1 share per current share held or cash equal to the five-day volume-weighted average price of the current company's stock three days before the deal's completion.
MLP Option
The offer represents a premium of 24 percent over MeadWestvaco's previous stock price, analysts at Baird Equity Research said in a report.
Rock-Tenn rose 6.1 percent to $66.85 at the close in New York while MeadWestvaco gained 14 percent to $51.35.
Voorhees will lead the new company, which will be based in Richmond. MeadWestvaco Chairman and Chief Executive Officer John A. Luke Jr. will be non-executive chairman.
The new company will have estimated annual earnings before interest, taxes, depreciation and amortization of $2.9 billion on sales of $15.7 billion. Annual consumer-packaging sales will be $6.8 billion while sales of corrugated boxes will be about $7.8 billion, the companies said on the conference call.
Rock-Tenn and MeadWestvaco also said Monday they will continue to evaluate the use of a master limited partnership structure. Both companies had said prior to the deal that they were considering creating MLPs for their mills. MLPs, commonly used in the oil and natural gas industry, pay no federal income tax as long as they distribute most of their cash to shareholders.
'First Priority'
"Our first priority is to be able to get the merger executed and integrated," Voorhees said.
Blackstone Advisory Partners was financial adviser to Rock-Tenn, while Cravath, Swaine & Moore LLP acted as legal counsel. Lazard Ltd. provided a fairness opinion to Rock-Tenn's board as well as advice to the company.
MeadWestvaco's financial advisers were Bank of America Merrill Lynch and Goldman Sachs Group Inc. Wachtell, Lipton, Rosen & Katz was MeadWestvaco's legal counsel. Greenhill & Co. provided a fairness opinion to MeadWestvaco's board.
The transaction is the largest in the paper industry since Koch Industries Inc. acquired Georgia-Pacific LLC in 2005 for about $12.6 billion, according to data compiled by Bloomberg.
International Paper Co. is the biggest packaging company by sales, according to the slide presentation from Rock-Tenn and MeadWestvaco.
Before it's here, it's on the Bloomberg Terminal.
LEARN MORE